Last Updated on November 27, 2018 by ThoughtsStained
Hello, dear readers!
I know hiatuses are never fun, but sometimes, they are necessary. And right now, your girl is in a huge ball of stress that she didn't realize she'd have, yet it feels like literal pressure inside of my head, neck and shoulders that has built throughout the afternoon, and this solution is the one that seems to be the way to lessen it.
You see, I haven't gotten on this blog since last Tuesday (as I only get on during breaks at work and I had off Wednesday through Friday last week for Thanksgiving). Then, we had a nice little blizzard hit, which ended up having us close the library Sunday and Monday, so what did your favorite introvert do? Not get caught up on everything that's stressing her out, nope, because that would have been the smart thing to do. No, I wore sweatpants, didn't leave the apartment for two days straight and ate cinnamon rolls while dying repeatedly in Fallout 76 with my boyfriend.
So, all said and done, I'm a little bit behind.


I didn't even realize that my Tolkien Society meeting was this Friday (it crept up on me, even though it's been on my calendar for two months) so I have some reading to do for that. And while rereading the first four chapters of The Fellowship of the Ring and The Return of the Shadow is no hardship whatsoever, it's just another thing to add to the To-Do list this week and it's something I really want to do, because this group is one I've never been brave enough to truly join until now, so I DON'T WANT TO MISS IT.
I also plan to read the first 50 pages of each of my last five SPFBO books this week and see if any I know aren't my cup of tea, so I know how many books I need to read more of and how to budget my time to do that. While I have until December 31st to finish them, I really need to finish them by the 15th or so, so I have time to read whichever finalist(s) The Alliterates picks and pick our sole finalist from the original batch of 30 books by that concrete 31st deadline.
But I'm also like…four or five months behind on ARCs? This is partial because I haven't been reading as much as I should have been, but I also usually only read a book a week. And, since I've been binging McClellan (four books in a row) so that I could finally read my oldest ARC, Wraith of Empire, that took a little over a month to do, meaning I completely missed my October books…and now my November books, too (and I already was behind on September). My original goal was to get caught up on all the ARCs I have by the 31st, but I think that is prolly impossible by this point…
Then, there is writing. I AM FINISHING this draft of BLOOD PRICE by December 31st. I refuse to let myself not finish it, with less than 100 pages left to edit (even though I just reached the middle, which is the hardest section for me, since it was the hardest for me to write). But I find myself continuing to push it by the wayside and I need to STOP.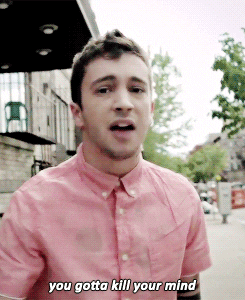 Yet my workload is about to get busier, these last few weeks of 2018, as we wrap up everything this semester and I prep for scheduling for next semester. The holidays always make things more hectic. So, how does this involve blogging? I usually write six blog posts a week. It's not the most time consuming thing, but I could save myself a couple hours a day to get caught up on reading or making more steady progress on BLOOD PRICE if I took a little break; two things that, I think, if I can start doing, I actually might release some of this built up stress and pressure I'm experiencing currently (that is totally self-inflicted, aside from SPFBO materials, which does have a hard deadline, so that's something I need to work on to).
Don't get me wrong: I love my blogging schedule and I've found it works really well. I like the balance I have between bookish posts and personal posts, and I really, really enjoy blogging and I like the content I'm putting out and don't mind the work. But I just need the extra time right now to dedicate to reading and writing. I'll still prolly read through everyone's posts, commenting and replying to comments, because I don't want to miss out of those (but who knows, I spent almost four hours reading through behind a week behind, so maybe not?). I plan to still post my Sunday Resolution Updates and any reviews of books I finish (and of course, SPFBO-related posts). Basically, I'm just taking a break from Top Ten Tuesdays, Waiting on Wednesdays and the two personal posts I try to write a week. I'm not sure how long this hiatus will last. I'm going to tentatively say throughout the rest of 2018, though I have a feeling I won't be able to resist blogging for that long. But I have books to read and a book to finish editing; neither of which I want to get in the way of needed family/friends time over the holidays.
So, with that, I bid you all adieu for a moment, but never permanently. May your days be wonderful, always finding a reason to smile, productive and but also forgiving–especially from yourself.
Catch you soon. <3
Cheers.