Title: Annex
Author: Rich Larson
Publisher: July 2018, Orbit Books
Blurb: In Rich Larson's astonishing debut Annex, only outsiders can fight off the true aliens.
At first it is a nightmare. When the invaders arrive, the world as they know it is destroyed. Their friends are kidnapped. Their families are changed.
Then it is a dream. With no adults left to run things, Violet and the others who have escaped capture are truly free for the first time. They can do whatever they want to do. They can be whoever they want to be.
But the invaders won't leave them alone for long…
This thrilling debut by one of the most acclaimed short form writers in science fiction tells the story of two young outsiders who must find a way to fight back against the aliens who have taken over her city.
**Review copy given by Orbit Books in exchange for an honest review** 
Perhaps I'm falling into a rut or my weird mood swings are affecting me more than I realized, but this is the second book in a row I have slight mixed feeling about (and those reviews are harder to write than the ones where you passionately love it or definitely hate it, so please bear with me on this).
I was definitely intrigued by the beginning and then even more curious as the book went on. I thought it was incredibly imaginative and at times, downright shocking and/or a bit gut-wrenching. I admired Bo and the love he shares for his sister a lot and I thought Violet was a wonderful character I never hesitated to root for (while hating Wyatt something fierce).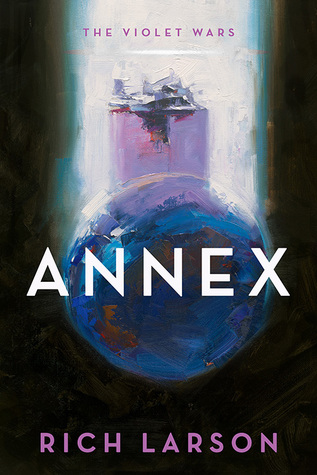 You have a group of kids who are dealing with an alien invasion where the adults get clamped and become mindless, wondering around in their own realities, not realizing that they are being controlled and overrun by these aliens. Meanwhile, the children are being collected and inserted with what they have nicknamed Parasites into their stomachs and some of them even get powers from them (though you'll have to read to see how that turns out). The book is about the kids trying to escape and overthrow these aliens, but I think it's more than that. I think it's about family and acceptance, most definitely; loyalty and forging new beginnings, for sure; resistance and community, too.
I guess, for me, I was expecting more of a kids-team-up-to-fight-back-and-retake-the-world sort of plotline. Yet this was more of a kids-team-up-but-experience-more-backstabbing-and-betrayal-amongst-themselves-as-they-attempt-to-retake-the-world plotline. Which, after reading it, is honestly prolly much more realistic and makes for a more interesting novel, I suppose. I think I was just really looking forward to seeing them all bond together and fight this invasion and was surprised with how much infighting there was to handle, causing a lot more problems than any of the aliens ever did. I will say that choice with the plot created some twists that I definitely hadn't been expecting that were pretty killer (not to mention an unrelated twist towards the end that was ridiculously like, whoa).
I dunno. I don't think I did this book justice, in this review. I enjoyed it. I thought the sci-fi elements were great and I loved getting to experience a book with trans representation for the first time. I'm definitely ready to continue reading more books with more diversity, especially books that rep cultures and identities different from my own (I'm really itching for a good lesbian fantasy, sci-fi or regency romance, if anyone has any suggestions…).
There was just…something about this book that made it not a great read for me, but simply a good one. Not a bad way to spend a few afternoons–and I am definitely curious about the sequel and most certainly plan to read it–but I'm not itching for it, if that makes sense? I wish I could pinpoint what it is exactly, but I think, if you're interested in this book, I think you should check it out. Larson is a good writer, his characters believable and his world creative and I think, the more he writes, the better his books will get.
Read on!