Last Updated on May 20, 2019 by ThoughtsStained
Hey there, lovelies.
Last weekend, I posted on my social media accounts about how I feel in regards to the new abortions laws my country is attempting to pass; how I consider them abysmal, inhumane, absurd and as a blatant and obvious example of the government's desire and need to control women. The responses I received were mostly supportive, in line with my own disgust and fear.
Except one.
One gentleman decided to open up the conversation by calling me a murderer and ended the conversation by calling me a monster. In-between was a lot of nonsense, including how, if I don't want to get pregnant and face these potential consequences, I shouldn't be having sex, as well as how "horrible" it was to suggest that a vasectomy was also a possibility.


I ended up blocking him, not because his beliefs were different than mine, but because he couldn't have a civil conversation about those differences and instead, just wanted to verbally attack and abuse me online. This happened late Thursday night, right as I was getting off of work. Even after arguing with this potential internet troll for only thirty minutes, my stomach was in knots. I was shaky and sweaty. I couldn't wind down, even after trying to play some video games before I ended up going to bed. I woke up my boyfriend as I crawled in and he could tell something was wrong, but I didn't want to keep him up and take away his sleep, it being almost two in the morning.
So, I curled up on the other side and cried myself to sleep.
The next morning, I woke up and was doing a little better. It was the start of my weekend and it was a three-day-weekend, in fact, so I was amped for that. Yet I couldn't stop thinking about this interaction that I had, how cruel this random person on the internet was; how I was scared to get back on social media, come Monday morning (as I don't use it during the weekends), because I was nervous that more of these attacks were waiting for me in my notifications.
How I felt–wrongly, I must point out–like I deserved his verbal abuse, for posting about such controversial opinions online.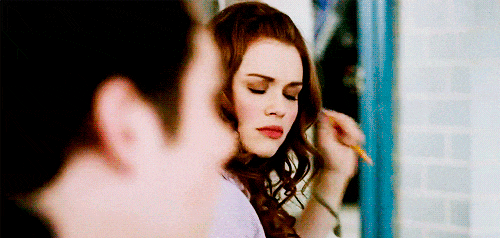 Yet, I needed to get those emotions out and I'm a writer, so I wrote out how I felt. I wanted to post them because I wanted those who are similarly effected to know they have an ally in me, to add my voice to theirs. For me, speaking about this publicly and letting anyone who cares to know where I stand is one of the first steps towards activism–something I'm not the best at, granted, but I'm working on it. I needed this and I knew, going in, that there might be some potential backlash. I expected it, rather.
That didn't make it any easier to handle.
More so, knowing that I expected it–realizing at one point, I even thought I deserved it–sits with me in a majorly wrong way.
And that's what I want to talk about real quick.
Because here's the thing. I'm the middle of editing an epic fantasy novel that I hope will become my debut. It's a novel that centers around periods–yes, those periods. The opening scene starts out with a woman cramping in a basin while she bleeds and it holds nothing back. I wrote it because I am frustrated how little this aspect of womanhood is talked about in fantasy fiction–and how, if it is, it's skirted around or still treated as a taboo and shameful topic.
I know this book, if it's ever going to get published, is going to make readers uncomfortable. Perhaps even angry.
And I'm already terrified of the backlash. The hatemail. The death threats. The name calling. All things I've heard of other authors dealing with, because someone disagrees with their opinion. Especially women, people of color and those in the LGBTQIA+ community. All because I wanted to write a book that made a woman feel both comfortable and validated, instead of shamed, tainted, unworthy or powerless.
A lot of feelings that I've been feeling recently, actually.
Probably since November of 2016.


Thinking about this past weekend and what happened with a thread that didn't go viral, from someone who has barely over 1,000 Twitter followers and less than 200 friends on Facebook; yet one random man with a different opinion from me just happened to stumble across it and decided to attack me for it. It shook me, but it's one encounter. I'm fine. But what if my book became a NY Times Bestseller? What if I'm being barraged with hate on a daily basis, through my social media? Or being attacked at cons? What if that 30 minute encounter from Thursday night becomes not a rarity, but the norm? The true expectation, because of my work? Which, yes, is a reflection in many ways of my beliefs, but it's also my novel. My passion. My baby.
I'm just…I dunno. It's a lot to take in, that this is a consequence of my desired career, as an author. What bothers me most, though, is that it seems to be an expectation, thanks to the anonymity of the internet and the multitude of ways we can tear one another down. That, if I want to publish this book, I should find ways to get used to having people hate me and tell me so? That I'll have to constantly block people, run the risk of making my social media accounts strictly business instead of personal (which I've seen more and more authors need to do, thanks to interactions with "fans"), that I'll have to get used to daily onslaughts of hate?
There has to be a better way than this.
Right?


Sure, I don't know anything for certain and all of this is just speculation from a gut feeling, a guess, of how some will receive this book–and thus, receive me–if this book ever comes to light. I guess I'm just trying to process how on Earth creatives are meant to function when our culture is normalizing abuse towards them, whether it be emotional, verbal or physical. Because most of the abuse I imagine I might receive will come from social media–the very platform I cannot get off of if I ever want to be able to form a community and promote my work.
Is it going to stop me from writing these stories and voicing my opinions?
Fuck no.
But, I'd like to believe in a word where an opinion can be expressed–even a controversial one like women have fucking rights *bangs head in sarcasm*–without expecting and being forced to accept verbal abuse and attacks as a response.
Cheers.