Last Updated on August 3, 2018 by ThoughtsStained
Hello, dear readers!
So, you know I mentioned I was going to do a monthly updates in a series I'm calling my Bookish Breakdown, where I'll highlight the books I've received or bought over the past month, plus link to any reviews I've currently written, back in May? Well, I missed the post for that in June, so I decided that, instead of scrambling and posting it two weeks late, only to have to post for July two weeks after that, that'd I'd do a special summer edition! Which means this post is going to be massive (sorry) but I'm pretty stoked for it!
I'm still working on the format and everything for this post, so if any experience bloggers have any tips or tricks, I'd super appreciate it (especially with spacing and how to keep the covers aligned on one side and the words on the other).

ARCS
Many thanks to both Orbit and Titan Books for the books sent below and continuing to keep me on your review lists. It means more than I can express.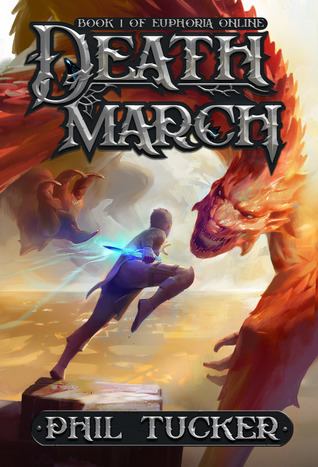 Death March by Phil Tucker: Tucker is one of those authors that I haven't read yet, but I am seriously intrigued to do so. His Chronicles of the Black Gate series seems like it's going to be really promising/really good. So when he put out a call for people to sign up on his review list, I was all for it (thanks to the author for this review copy!). So, in my email the other day, an online copy of Death March, the first book in his Euphoria Online trilogy, came into my Inbox, I was pretty stoked. I don't usually read eBooks, though. I try to read print, if I can, because that's my bread and butter (and I spent enough time on my computer as it is). But I'm definitely going to make an exception for this one, because I'm seriously stoked to read it and see what this LitRPG genre is all about.
---
The Synapse Sequence by Daniel Godfrey: This one is a science fiction novel I received from Titan Books. I haven't read it yet, thanks to all the other books I've received (most of which I've been itching to read, so it's taking all my willpower not to take an entire week off work just to read them all). And honestly, I think I may have made a mistake requesting it. The premise still seems intriguing and I'm still curious to read it, but I'm not sure if I'll be in the mood for this type of book any time soon. Hopefully, I'll be proved wrong!
---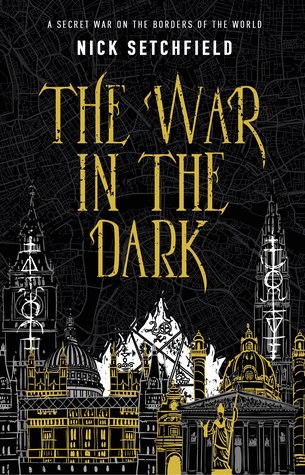 The War in the Dark by Nick Setchfield: Also received from Titan Books, where I participated in the blog tour for this novel. You can find my review and thoughts here.





---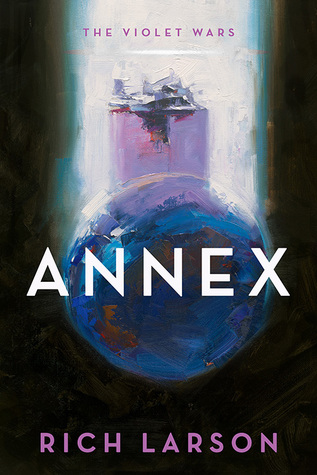 Annex by Rich Larson: Received from Orbit, I am super intrigued by this novel. It'll be interesting to read, considering I didn't like Lord of the Flies, and this is basically Lord of the Flies, but in space? Even with some of my reservations, I'm still pretty stoked to check out this novel, if only because I completely fell in love with the cover and I hope the story inside does it justice.



---

Blood of the Gods by David Mealing: When Orbit had this on this list, there was no way I wasn't going to request it. Granted, I haven't read the first one (*hides because she really should be ashamed*) but I've just heard so many wonderful things about the first novel that I'm pretty hard pressed to believe I'm not going to become ensnared and fall in love immediately. So I'm excited to read the first one and hopefully fall in love, so then I can tackle this beast!


---

Bloody Rose by Nicholas Eames: *continues to hyperventilate because she can't believe she already has a copy of this in her hands and still hasn't started it yet because she's trying to be a good book reviewer and read the books she got in order of release date so she doesn't fall behind in August as she has the past three months and truly is showing a lot of willpower here because this was her most anticipated read and she knows any book that comes after it is going to pale in comparison and she just feels really bad about that, really…*

---

Spellslinger by Sebastian de Castell: I received this book from Orbit and, because of a new cover, I didn't realize it was actually a book I had on my To-Read list already, when I requested a copy of both this one and the sequel. I also didn't expect to enjoy this one nearly as much as I did, but it was just a genuinely fun read and I'm quite excited to dive into the second one! Review here.



---

Shadowblack by Sebastian de Castell: I just received the sequel from Orbit and, like I mentioned just above, I'm itching to read it. And while I liked the original cover for the first book better than the remaster, I positively adore this cover. And with the title and how the first book ended, I am very curious about what is going to happen next!



---

King of Assassins by RJ Barker: Oh man, oh man, thanks again to Orbit for sending me some of my most anticipated reads of the summer. This finale, in particular, I was so stoked to receive! And I'm currently about halfway through it now and I've been getting really upset I've only been able to sneak in a moment to read here and there, instead of getting to devote hours to sit and find out what's going to happen in this tale. You seriously don't want to miss this.



Books Received
Thanks to the authors and editors who sent books my way over the summer, whether it was through request or giveaway!


Dawn Amongst the Stars by Samantha Heuwagen: This book and author were recommended to me by a friend (and another author, R.K. Brainerd) who I hold in the highest respects. The author contacted me and asked if I wanted to check out her book and, since she had Rebekkah's recommendation, I couldn't deny! Unfortunately, I have not been nearly as timely as I should be in reading this novel, but that doesn't mean I'm not ready to dive in as soon as I get my TBR pile a little more manageable!


---

The Girl and the Grove by Eric Smith: When the author put out a call for book reviewers to receive copies of this novel, I was all for it. I respect Eric as a professional in the field highly and have enjoyed following his Twitter for years. I haven't picked up any of his other books yet, but I'm pretty dang stoked to mix up my usual reading mix with this one!



---

Soul of the World by David Mealing: So, remember how above, I was like, "Yeah, haven't read the first book of The Ascension Cycle, but I'm pretty jazzed to check it out"? Well, the lovely Brit Elisabet Hvide Busse, senior editor of Orbit Books, hosted a giveaway for the first book, to celebrate the second one coming out. I rushed to enter, since I didn't own the first book and I actually won (trust me, I'm just as floored as you are). So I'm hoping to try and tackle this one by the end of the month, potentially, because I'm completely out of excuses in regards to not reading this one, now.


Books Bought

Blood Requiem by Christopher Husberg: This might be one of the hardest books I had to search for, before "I" finally resorted to buying it online (thanks, Mom!), but it was worth every minute I speak searching for it. Mixing with feeling like I was coming up to upping the stakes and making me go, "Oh, shit," more times than I can count, the wait for the fourth installment of this wonderful and underrated series is not going to be any less painful than the previous three. Review can be read here.



---

Elantris by Brandon Sanderson: I've read most of Sanderson's works, but actually haven't read this one yet. But I'm also working on owning all of them, as I read him during a time when I couldn't afford to buy all of his books, so I just horded my library's selection by him for a couple of months. So I couldn't resist buying this mass market paperback when I finally stumbled upon a copy (as mass markets are my favorite size), even if I don't think I'll be able to read it any time soon.



---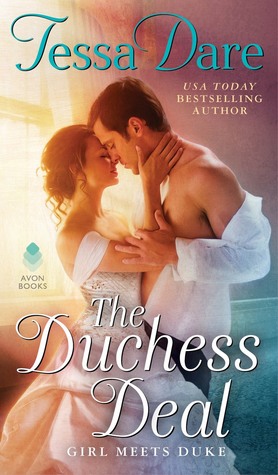 The Duchess Deal by Tessa Dare: I still can't get over how gorgeous this cover is for Dare's latest. I also am working on building my own romance collection, now that I've gotten over that stage (which I'll blog about over on my personal blog here soon, if you're curious what I'm referencing) and I just couldn't resist the less than $10 price tag for a book that I, if it's like any of Dare's other works, will read in one sitting.



---

The Defiant Heir by Melissa Caruso: I also caved and bought this one, just because I couldn't not have a copy on my shelves. While I was lucky enough to read this as beta reader (*insert heart eyes forever*), I definitely can't wait to reread and touch the physical pages as I slip back into the turmoil as we enter into Vaskandar (even if I know it's going to hurt my heart to do so, because it's just so good and I'm just so invested). I also need to write up a proper review, after I reread it, so anyone who hasn't been lucky enough to fall in love with this series has someone else shouting at them to do so.

---

Chasing Embers by James Bennett: Won't lie: the entire reason I bought this book is because it was in the "cheap bin" at Barnes and Noble one day and it was published by Orbit, which has a 99% success rate that I'm going to fall completely in love with it. Don't even know what it's about or who the author is, but you really can't beat five bucks in the bargain bin for a potential new series to obsess over.



---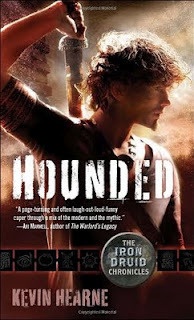 Hounded by Kevin Hearne: Honestly, I've been meaning to read Hearne for a while and so I purposefully bought this book so I'd force myself to actually do so. Plus, I haven't read a quality urban fantasy in a while and I wouldn't mind doing so as I wait for Peace Talks by Jim Butcher to come out…




---

A Plague of Giants by Kevin Hearne: The blurb for this book, back when the first started doing marketing for it, is what first really got Hearne on my radar. I was lucky enough to stumble across a paperback copy of this book at the bookstore the other day for only $7, so I didn't hesitate to add it to my collection and I'm really hoping it lives up to the hype!



Books Borrowed

Kill the Farm Boy by Delilah S. Dawson and Kevin Hearne: Ever since I started getting ARCs, I haven't been using the library as much. But when I say this book was coming out (and I couldn't afford to buy a hot-of-the-press, brand new copy of my own ((YET)), I immediately requested it be purchased by my library and they delivered, because they are incredible. I am so excited to read this book. I'm hoping it has the humor I am craving right now. It's currently sitting on my nightstand, waiting for me to finish King of Assassins so I can read it. It might be, um *coughs*, due tomorrow, also. With two holds on it, so I can't renew it…(I AM SO SORRY BUT I'M GOING TO READ IT ALL DAY SUNDAY AND I PROMISE IT'LL BE BACK MONDAY MORNING).
---
Okay, yeah, that list was a lot longer than I thought it was going to be. And also, this is very, very new for me. I'm not used to obtaining so many new books consistently, as I'm usually a pretty frugal person, so I have to be careful of what I buy when. So thank you again to all the publishers and authors sending books my way, as you're helping me read books I wanted to read anyway (in most cases), just a little bit sooner.
Do any of these books pique your fancy? Are any of these on your list to read or have you already devoured them? Any books you want to break my TBR pile with even more? Let me know if the comments below!
Read on!