Last Updated on August 18, 2017 by ThoughtsStained
Breath of Fire by Amanda Bouchet was a whirlwind and in the best way.
**Slight spoilers abound after this line**
I really enjoyed the first book of the trilogy, A Promise of Fire (you can read my review here), which I embarrassedly started reading without realizing it was a romance, which did make for a really fun surprise. This time around, I was ready to witness the romance between the couple I'd come to adore so much.
And then I read the first chapter.
I'm one of those readers of romance who absolutely hates it when the main couple has any sort of conflict whatsoever. Especially considering, for so long, I read romance novels to fill a void in my own, non-existent love life (I know, sad, but true), when the couple fought or reach that "threatening-conflict" stage, I always hated that part; because dammit, if my love life was going to suck, at least let me pretend to be in love with X dashing character without having that love threatened! So, naturally, when I started reading Breath of Fire, my stomach immediately twisted in knots and I was completely unprepared to go deal with that kind of conflict in the first chapter.
Just as I was equally unprepared to deal with what happened in chapters two and three.
Let's just say that reading those (and other sections) while sitting at work was probably not the best move.
Flushed face. Accelerated breath. Chills everywhere. Amongst other things.
I'm sure you're catching my drift, here. This is a romance, after all.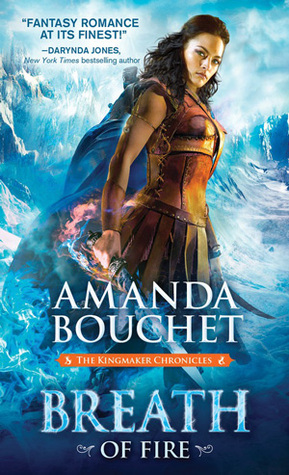 Needless to say, I still continued to read it while at work, being turned on by Griffon be damned. I had a book to devour. Which I pretty much did, reading in 100+ page chunks. My favorite aspect of this series is that the balance between romance plot and fantasy plot is done well. I'm just as interested in the romance between Cat and Griffon (which evolves in this book in some fantastic ways, particularly when you look at that last chapter) as I am in figuring out Cat's destiny and the power bid going on between Sinta and Fisa.
Though that balance and blend between both plots is probably my favorite aspect of the book, there are so many other aspects I adore, as well. Griffon. The incorporation of mythology. Griffon. The banter between everyone in Alpha Sinta. Griffon. The growing familiarity we get of Griffon's family and Cat's association (and role) with them. Griffon. The little bits of humor slipped in, especially in terms of word play or the style that the book was written. Griffon. The way that Cat overthinks like I do, making her so relatable.
Have I mentioned I also have a major crush on Griffon?
I will say that although I enjoyed this book thoroughly, I did find some moments a bit cheesy and sometimes, I thought the dialogue between Cat and Griffon to be a bit…much (then again, I've never had a man love me that much, so maybe I'm just inexperienced). But other than that, I really had no complaints and thought this was a strong follow up to an already really strong debut. I'm jazzed for the final book, Heart of Fire, to come out in January (which is, by the way, not soon enough, especially after that teaser provided in the back of the book) and I'm pretty sure I'll be looking up Bouchet's next series after this one. You should check these out. I bet you'll enjoy them.
Read on!