Last Updated on February 15, 2021 by ThoughtsStained
Hello, lovelies.
I have a fun "rant" for you, once again inspired by the goings-on of the Twitters. The other day, someone asked a really good question about finances and I responded with a dream:
Of course, I haven't been able to stop thinking about it, so I had to write about more of my thoughts here. Because, in many ways, it's such a sad reality that many are forced to live in: the 40 hours, 5 days a week work week, bare minimum (with so many working multiple jobs to stay afloat). I feel like it's another case of, "well, we've always done it this way, so…," when I don't think this is a healthy reality for practically anyone. And that's assuming you're lucky enough to work one job and still be able to afford your bills and have healthcare (which, how bullshit is it that our healthcare is tied to our employment status and used as a lobbying tool to force people to stay in jobs due to their quality of healthcare!?). I can't.
When I came across that tweet, it was hard to not immediately start dreaming about what life would be like, if I didn't have to worry about getting a paycheck and making ends meet. I wouldn't have to struggle to wake up each morning anymore, due to having chronic sleep problems thanks to my anemia. I wouldn't have to work at a day job that underpays me and is currently debating (only at the top, mind, not including us in the discussion) what can or cannot be asked of it's staff in regards to reopening and returning to campus during a pandemic, all in the name of "the health of the university" (that's a rant I'm not sure it's safe for my own job security to post, sigh). I wouldn't have to be tied to working nine hours a day, five times a week, working that 8-5 life.
Instead, I could work or volunteer at jobs that interest me, doing something part-time because I want to, not because my very survival requires this paycheck to afford my bills. I would work at an animal shelter or a zoo or a sanctuary, allowing me to spend time around creatures that I love. Or a bookstore, where I could nerd out with people about books and help them find their next favorite read. Or a non-profit, where I can help make the world a better place.
I could write full-time and actually make significant progress on my novels without trying to juggle a day job on top of it. I could do freelancing editing full-time, if I didn't have to worry about finances or being forced to stay in my day job. Hell, I could offer editing services for free, which would be so amazing, as paying for editing is so expensive (the classic Catch-22 of wanting to help writers because I love it, but also wanting to be paid a living wage for the time I put into doing so).
I think, the biggest thing that this dream makes me want, is the freedom of time. Working from home has helped elevate this in my mind. Like, imagine being able to just…take my dog for a walk at 3pm one day because that's when the weather is the nicest, instead of trying to decide if I can sneak her walk in during my lunch break? Or being able to have a natural sleep cycle where I actually get enough sleep that I need and waking up naturally, instead of to an alarm? Or being able to truly adapt to my mood and listen to my body (i.e., not in the mood to workout in the morning? That's fine, let's write and then workout in the afternoon), instead of being forced to do things because that's when I scheduled them? Or not having to worry about repercussions from my job when an emergency comes up between the hours of 9-5? Or being able to run errands when I need to?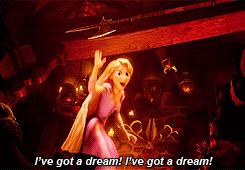 I've been working in a full-time job since 2015, so I haven't been in the workforce for a super long time, but long enough to where I question why it *has* to be this way–especially since the pandemic has shown it can be much more flexible and accessible than many jobs were before.
This is sort of all over the place and I'm sorry about that! I have just been thinking about this a lot lately. I always find that I never have enough time to do everything that I want to do, whereas I spend the *most* time working at my day job that I am forced to have. Don't get me wrong: there are many aspects that I truly enjoy about my job and I am very grateful to have kept it and have one during the pandemic, especially.
But, it's hard not to dream about what life could be like, if earning a paycheck didn't have to be my focus; if I could break out of the 9-5 day job model (with a second job on the side) and be able to do what I wanted to do, instead of doing what I had to do, to survive.
Cheers.