To some, I'm sure the idea that I lost interest in both watching television seems absurd (just wait until you hear my reasons), but that has definitely been the case…for years. When I moved out and went to college, Netflix and I were tight-knit as you could be. That was my main hobby; binging TV shows on the weekend was a regular occurrence. But eventually, I found myself not necessarily losing interest, but definitely failing to finish shows until I finally just stopped watching them all together.
A couple obvious factors came into play before I realized the true reason why I fell out of love with such a relaxing hobby that I really enjoyed. As my life grew more hectic, the time I could dedicate to hobbies lessened and forced me to choose. And in the past two years, I've become a much more dedicated gamer and I thought, for a while, that was the reason why TV got the boot. When I only have a couple hours of free time and I have to choose between leveling up my Smithing ability, running with nugs in Thedas or flirting with Turians, i.e., video games, and television…well, let's just say, video games have my heart. I'm choosing that every time.
It was especially nice when I was unemployed for a bit and living back home, with access to the bro's PS4. After I moved into my own place, I went back a generation, console wise. Since, I've already replayed all my favorites on PS3 (and definitely realized how spoiled I was on a PS4, when I'd grumble about graphics or functionality). Considering I haven't saved up enough for a PS4 (yet *evil grin*) and it's cold out, which means staying inside is necessary for survival, I was left wondering what I should do with any free time that I had.
I found myself, thinking of all the shows I wanted to watch, both new and ones that I never finished, responding to that idea with aversion. That response confused me. I know I chose to "give up" television in exchange for other interests, but I didn't think that I had developed such a dislike for it. And that's when it hit me, when I finally figured out why I had fallen out of love with TV shows.
I was tried of getting my heart broken.
(Oh, above, when I hinted that you'd probably judge me for my rationale? This is it.) You see, I get very invested into things I'm interested in. And I truly believe, as a creative soul, that I get more invested into art–film, TV, books, video games, etc.–than the average consumer. That isn't a bad thing. When I started thinking back to all of the shows I wanted to watch, but stopped, I noticed a pattern: anytime my favorite character or favorite couple went through a rough patch romantically, I stopped watching it. Psych. Once Upon a Time. Robin Hood. Merlin. All of these shows, and more, I stopped watching when the love plot got complicated.
I'm single in my own life and experience enough loneliness. I don't need to see the character who I'm empathetic towards or connect with the most experience the same pain. I want to experience their love, instead. At least, that was what my subconscious meant when it turned off my interest and I turned off the show.
Yet, recently, I've found myself getting back into the TV scene. And I'm enjoying it. I'm not sure if it's because I've recognized what has been holding me back and now I've created more of a barrier between what's happening to me and what's happening to the characters (a barrier that, if it exists, will probably disappear, very quickly, and I'm totally okay with that). Not having a PS4 definitely helps. There might not be a single reason as to why I'm slowly falling back in love with the idea of curling up on the couch and watching an episode (or six) again. And I know that this hobby will go on the back burner without a blink, once I'm able to game again (because have you seen the line-up of games coming out next year? You can't really blame me for that decision). Until then, I'm enjoying it. But it creates a new problem…
What do I watch next?
Here's a quick list of what I've watched since my return:

Outlander, Season One:
One of my employees let me borrow this show–and by "let me borrow", I actually meant she let me borrow it and then repeatedly asked me how it was every time we worked together, bugging to know what episode I was on and then giving me deadlines of when I needed to watch another episode by, which I always missed. It was the first show that I tried to get into after literally not watching any TV show for years, so I won't lie: it took me a couple of months to actually watch the entire first season. (Also, remember when I confess that my instinct, when the romancing plot is suffering, is to turn it off? Yeah, real smart to get back into the swing of things with a romance-based TV show, Nicole.) Yet I also really enjoyed it. I loved the culture, the accents, the men (oh yes, definitely the men), the score and becoming invested in someone else's life on the screen again. Though it took me a while to get through the season, I also had multiple times where I was almost late to work because I squeezed in "just one more episode."
Bones, Season 11:

Now, this show. This show is the exception to every rule. Every time Netflix finally uploads the latest season, I drop everything and take the weekend and watch the entire season in the span of 48 hours. Every.freakin'.time. Season 11's arrival to Netflix was only different in that I didn't immediately jump to watch it (as I was still in the middle of Outlander and knew that if I didn't finish that one before switching to something else, I never would). But I definitely started watching this the same day that I finished Outlander and I was not disappointed. Bones is like a warm hug that you didn't realize you missed, welcoming you home after you've been away for too long. I love the squints, I love the cases, I love the interlacing of cases and personal lives of the team. And that FREAKIN' cliffhanger. Lemme tell you, I stayed up way too late after that episode. IT WAS NOT OKAY. *deep breath*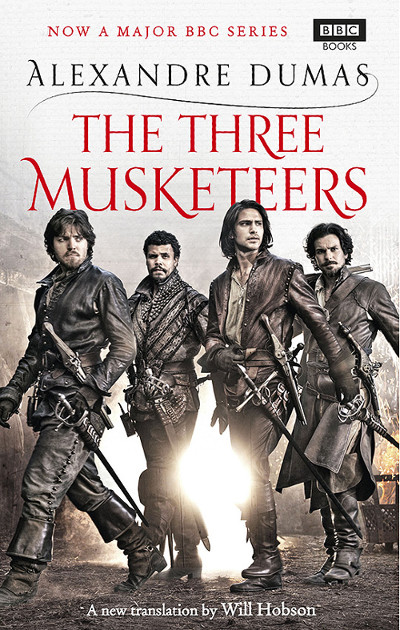 The Musketeers, Series One:
I actually own this series thanks to my cousin, who bought it for me and surprised me with it in the mail and told me to watch it months ago. Yeah…just now getting to that. But I seriously loved it (and had no doubt that I would). I watched a disk a night and finished this sucker over a weekend. It had everything that I wanted: attractive men, intricate plots, compelling characters, swordplay, not being set during this time period. I seriously couldn't ask for more. Well, except for Series Two. And Series Three. On DVD. For Christmas. Ahem.

Peaky Blinders, Series One-Three:

The latest show that I've watched, finished this afternoon, in fact, was forced upon me by my mother and sister, who both are absolutely addicted and quote it like there's no tomorrow (and for half these characters, there definitely isn't). I admit, I didn't fall head over heels as much as they did, but I also cranked through three series in a manner of weeks, so that still speaks to my enjoyment of the show (particularly once Tom Hardy joined the cast). I was fascinated by the moral conflict. I constantly wanted to root against the Peaky Blinders. But when it matters most, I was always rooting for them. And I think that is damn impressive to pull off. And when Series Four comes out, I'll be tuning in. That last episode was on a different level.
Now, I'm left with a plethora of options to start this weekend, but no idea which one to watch. Aside from a rewatching of the entire Sherlock series, in preparation for the Series 4 premiere on the 1st. Obviously. Perhaps you could help me choose? Or, fangirl with me down in the comments over shows you already love. Or suggest something that isn't even already on this massive list!
Shows to Continue: 
Robin Hood (Series 3)
Merlin (Series 4 and 5)
Game of Thrones (Seasons 4-6)
Once Upon a Time (honestly no idea where I left off)
The Tudors (Seasons 2-5)
Murdoch Mysteries (Seasons 2-who knows)
Shows to Begin: 
Crown
True Detective
Spartacus 
Rome
Vikings
Black Sails
Poldark
Reign
Downton Abbey
Turn
Fleming: The Man Who Would Be Bond
The Borgias
Penny Dreadful
Jonathan Strange and Mr. Norrell
The Shannara Chronicles 
For someone who fell out and then back in love with TV, I have a lot of options. Goodness.
Cheers.