Last Updated on January 20, 2021 by ThoughtsStained
Hello, lovelies!
I want to share a quote from a dear friend, Meredith of Meredith Crosbie and Crosbie Editorial, wrote in a recent blog post, discussing her experience with writing, editing and rewriting an amazing story numerous times, all in the quest to "get it right" (please excuse the pun in the title of this post, I couldn't help myself):
This has led to (of course) another existential spiral in my writing brain, where I've been grappling with the whole idea of when is a story 'right'? When is a story done? Not only finished, but successful, in the sense that the writer feels it's the best version it can be, and they feel fulfilled by it? […] I'm talking about that smaller-scale version, where the writer feels confident in their story and the decisions they've made. Where they step back and say "Yup, that's what I was trying to say with this story, and I've said it. I'm happy with it."
I commented on her post and told her I had to write out my thoughts in blog form, because there is just so much I connect with, in regards to what she's struggling with; especially as a writer who also has been working for the past few years (give or take the level of consistent working, mind) on editing a story that I want, more than anything, to do justice by.
I think this is a struggle that all writers face, in all levels of their career, but, most certainly, before they publish. When speaking of traditional publishing and looking at the process of securing alpha and beta readers, securing multiple rounds of feedback and self-editing, to potentially hiring a freelance editor, before querying–not to mention any pitch contests, mentorships, classes, friends, peers, colleagues, who might also have the chance to read and comment on a work; and, well, when you look at that, there is a lot of room for opinion and commentary.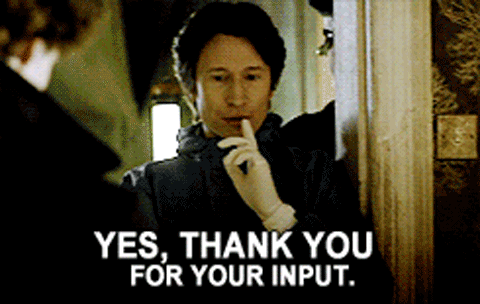 And there should be! Getting outside feedback is so important and you should do that often in your writing journey, no matter what. Yet, what do you do when your feedback is conflicting? And not just when it's smaller details, like a scene that could be reworked, word choice or line-edit changes. I'm talking when one feedback tells you X, another tells you Y, but all along, you were really doing Z; and, to transition to Y or X, you'll need to do massive rewrites, replotting, restructuring, re-everything.
How do you build the confidence to know what advice to heed? How do you discern who to trust and that you're making the right call? How do you balance being open to new feedback and concerns while also protecting what you're trying to do with the story you've grown to love so much?
What a question I wish we could answer.
Trust me, no one is more disappointed than me that I built up this post to pose all of these valid questions and then offer no answer. Because I think the answer is too unique, too individualized, to ever be a blanket truth (like so much in writing is).
It's acknowledging that writing is subjective, just like opinion, and you're going to get all of it across the spectrum and then some. I think learning the heart of your own story takes time and practice and will vary for every single piece you write. I think learning how to adapt others feedback to match that vision is an artform only practice will allow you to master. Building confidence is accepting that you might make mistakes that lead to long nights of rewriting, but also trusting yourself enough to recognize them and knowing that you can always edit another draft; trusting yourself to put in the work.
But, how do you know when you're done? When right is as right as it can be? Honestly, I think we could edit a story forever, if we wanted to–or felt we were allowed to, in some cases. The thing is, eventually, you won't want to. You'll want to move onto other things or just allow the story to breathe it's own life out amongst the waters of bookstores and ereaders and bookshelves. Maybe it looks like taking a break from a story, maybe it looks like publishing it, maybe it's shelving it for life.
But, eventually, a story is done only because we say it is, not necessary because it's right.
Do we want it to be right? Do we want it to capture everything we wanted to say, in as beautiful a manner as we can say it, becoming the perfect companion at just that right moment, at the right time, for every reader who gives our heart-in-book-form a chance? Of course! Reality, though, doesn't allow such things like that to exist.
For, even if you get it right, someone else will label it all wrong.
So…where does that leave us?
Free. It leaves us free.
Free to write with our hearts, to pour into our words and stories without abandon or fear. Free to chase the dreams that feel impossible, the stories that feel out of our depth, the ones that scare us. Free to write for ourselves, first and always, and take pride in what we've accomplished, what we've attempted. Free to learn where we can improve and how to become more inclusive, thoughtful writers of stories. Free to try again, as many times as it takes. Free to move on, to take risks, to try something new.
Free to fall in love with words only we can use, in a story only we can tell.
I have no idea how to get a story right. I've chase that desire so often, writing sometimes become impossible, because I'm so scared to mess it up, that I don't even try. I…don't want to do that anymore. I may not be able to get my story exactly right, but I think…I think I'm slowly learning how to write for me, while continuing to grow, challenge myself and my work so that others might love it as much as I do.
And for now? I'd say that's enough.