Last Updated on December 7, 2020 by ThoughtsStained
Good evening, lovelies.
So, I got a new film review for you! But, of course, I have to start off with a story, because…well, hello, it me.
I had no idea this film existed until a few weeks ago. I was wasting time on Twitter, as one does, before I stumbled across this post, with that teaser:
I was immediately intrigued, because the chemistry in that teaser alone was off the charts and I wanted to know what it was from.
I found out it was an Indian retelling of Romeo and Juliet.
Um, hello. I was immediately intrigued.
So, I go looking for it on Netflix, but to no avail. ITunes was suggested to me as the medium to use to watch it, but I don't really use ITunes to begin with. So, I thought my library might have it. They didn't, but they do have an ILL program (interlibrary loan, which basically means they will pay to borrow an item they don't own from another library who does own it, on behalf of the patron). I had never tried it before, so I figured, why not? I put in the request and didn't expect to hear anything back for a while, if it even got approved at all. My hopes weren't really high, but I wanted to try this, before resulting to Amazon.
THEN, I get an email that says the DVD is ready for me to pick up from the library, literally like…days after I submitted the request!?!? A lot quicker than I was expecting. BUT NOT ONLY THAT, but my library bought the DVD to add to their collection, instead of simply borrowing it from a different library.
Friends, I have THE BEST PUBLIC LIBRARY EVER.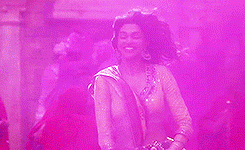 So, I tell my boyfriend this entire story, as one does, and then he's like, "Well, do you want to watch it for our stay-in-date-night this weekend?"
This also floored me. Unfortunately, because I don't think there are many who I am close with who would actually want to watch a foreign film (although, I have most certainly tried to change their minds, after finding a few hidden gems that I've adored) and I foolishly assumed my boyfriend might be in that number (especially since it's a romance). But nope, I have a winner here, friends. We cook dinner and we put the movie on.
And…wow.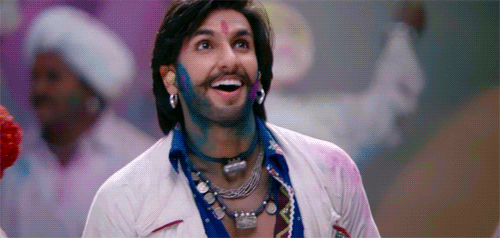 This movie was really incredible, in my opinion. First off, it was gorgeous. Just the colors alone made me wish I could watch a 4K adaptation of this, especially during the Holi celebration. The cinematography was really awesome and I loved how Shakespeare's classic was both modernized (similar in ways to Baz Luhrmann's adaptation) but also completely redone to fit Indian culture–most of which, unfortunately, did go a bit over my head, as I'm not as familiar with that culture as I probably should be, but my own ignorance didn't hinder my appreciation, understanding or enjoyment of the story in the slightest.
I thought it was wonderfully done and I loved picking up on elements I was familiar with (like the "a rose by any other name" line), but I enjoyed the differences, too (with the take on Romeo's character the most distinct difference, for me). This was also my first Bollywood film and I live under a rock, so I had…no idea how important music numbers were? Yet I positively loved it (especially Ram's intro, for, um…reasons).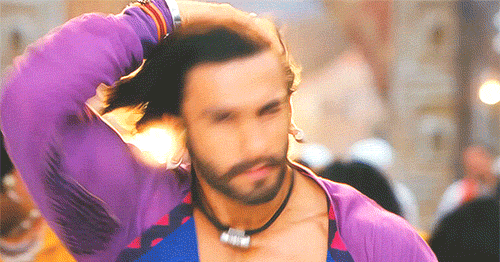 My main critique might make me seem shallow (and IS a minor spoiler, for story that has been with us for hundreds of years, but nevertheless please do be careful, after this point), but I was…sorta disappointed we never actually got that sex scene between Ram and Leela? I mean, obviously I don't need sex scenes in films to tell a complete romance story, but the CHEMISTRY between the two of them was incredible throughout the entire film and it was the build-up I was waiting for throughout. So I was kinda bummed when it didn't happen.
Regardless, I thought this was a wonderful film and a fantastic adaptation–prolly one of my favorites of this story. I definitely want to watch it again at some point and catch some of the more nuanced aspects I prolly missed, the first go through. If you love Shakespeare's original and want a fresh, Indian take on it; or love Indian culture and want to see an intense, emotional film with incredible musical numbers and acting; or you just want to stare at Ranveer Singh all afternoon (I also could not get over how gorgeous Deepika Padukone is!?), then this is a the film for you, friends.
Thanks so much to my public library for helping me be able to secure a copy and watch this and for Vanshika for unknowningly placing this film on my radar!
Cheers.