Last Updated on February 6, 2019 by ThoughtsStained
Hello, dear readers!
I'm really excited to bring something a little different to the blog today (if you enjoy it, please let me know so I can try and do it more often). The title gives the post away, so I won't waste too much time blabbering except to formally say I'm very lucky and even more honored to host fantasy author Jenn Lyons to my site today! She was kind enough to humor me and answer all my questions (upon which I had many) after I was lucky enough to finish reading an ARC of her novel. Her debut, The Ruin of Kings, was published from Tor Books on February 5th, 2019 (or YESTERDAY, if you're reading when this interview went live) and it positively blew me away.
If you've read the book, you know how incredible it is. If you haven't, I highly recommend it. Either way, feel free to take five minutes and get to know the brains behind the next fantasy powerhouse series a little better below!
---
Thanks for agreeing to stop by my corner of the internet, Jenn! Warmest welcome, to start. Would you mind starting off by telling me how long have you been writing?
Hello! It's a pleasure to be here. I've been writing for as long as I can remember, mostly little stories, backgrounds for my various RPG characters, stuff like that. My mother used to tell me that I never wrote on the walls, because I far preferred the paper quality of the family bible (woops). I wrote my first novel over twenty years ago (why yes, it was indeed terrible), and began seriously pursuing this idea of being a writer six years ago. You know, the traditional overnight success story.
I personally think it's so inspiring to read about someone who isn't an overnight success, even if it could potentially be portrayed that way. How long have you had Kihrin's story inside your head? What inspired it or how did you come up with such a riveting and heartbreaking story?
Almost twenty years. Even though a lot of details about the book has changed, his history has never budged. I admit that some of that is because my own history informed his, at least from the sense that I pushed a lot of my own heartache and frustration with my family–and discovering I had an entire extended family I knew nothing about–into his character. (Less so on the prophecies, magic, and dragons, obviously.)
I was definitely hoping you were going to confess that dragons were your main real life inspiration. But I think the depth you mentioned above really shows in how real Kihrin's own struggle feels.
As a writer currently in the querying trenches, I'm curious about your own publication journey. Would you mind elaborating a little bit of how you got to debuting with an awesome agent and Tor?
The process of finding an agent sometimes feels like trying to find a date to the prom where you're only allowed to ask someone living in another country using nothing but postcards. In this case, a friend of mine chanced upon a bio of my agent, Sam Morgan, while researching agents to query herself. She immediately insisted I blind-query him, and I did, assuming there was no way he could possibly be interested. A funny thing happened though: because I had nothing to lose and an entirely fatalistic view of my chances, I broke from my normal formal style of query and wrote something irreverent and humorous which was quite authentically 'me'. And that's what caught his attention.
The rest of it I can lay firmly at Sam's feet. He's the one who brought me to Tor's attention. Let me tell you, I'm glad I was near a couch when I got that phone call, or I'd have ended up on the floor.


Thank you so much for sharing that with me. That honestly gave me a lot of hope (and, on a personal level, having loved your book, I'm really grateful to you, Sam and your friend). On an unrelated note, are you taking applications for apprentices to be mentored by your writing genius, and if so, where I can apply?
You flatterer! Although I might protest that 'genius' label, truthfully I would love to mentor and teach more. Currently I'm slated to teach a workshop on the use of humor in grim fantasy at the Tucson Festival of Books in March. I'm really looking forward to it.
Good luck at the festival! That sounds rad.
Okay, so your writing style. The intricate way in which you wove together three narratives but didn't confuse the reader. How you expertly revealed information from Kihrin's perspective that was mirrored or matched perfectly in the next chapter from Talon's. I just…how did you do that? How did you approach that, writing wise? What made you want to write it this way?
The very first draft of the book didn't have that at all! It was a straight linear story and…it felt very generic to me. We've all read that book. It's not a bad book, but I didn't need to write it again. So I started from scratch and decided on this particular narrative framework, and once I did, everything fell into place. Over the years, a lot of people tried to talk me out of using this approach. Fortunately, I never paid a lick of attention to them.
I am so glad you went with your gut on that. And seriously impressed you had the bravery to start writing again from scratch.
Alright, let's mix it up. Which dragons do you prefer to fight: those in Skyrim or those in Dragon Age?
I have a confession: I've never played Dragon Age. Which I realize is heretical and wrong, not just because I realize the storytelling is amazing, but because I used to work for Bioware's sister company, Pandemic. Someday I'll rectify this grievous error. When I have time to play video games again.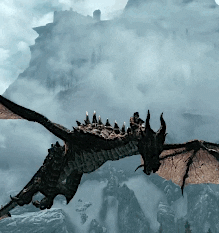 Ah, that was also my bad to assume you've played it. I hope you do get the time to play it at one point, because I'd love to hear some of your reactions on some of the story arcs of various characters.
Within The Ruin of Kings, being trapped–or the feeling of being trapped–felt like a theme throughout your book. Was that purposeful and can you speak more about that, if it is?
That was a theme that gradually evolved into the work, just as the discussion of consent issues gradually evolved. I didn't start out with those themes in mind. I started out with 'ooh, a thief, and this part needs a dragon, and what about a necromancer?' but I think part of the process for me as a writer is paying attention to and exploring what the work is trying to tell me. For Kihrin, imprisonment was quite a big deal, which seems obvious in hindsight.
I love how organically those themes came out from the story and that actually makes a lot of sense. Another fun one, next: your favorite dragon in fiction: who and why?
Maleficent. Yes, I'm counting her as a dragon. She was my gateway dragon, so to speak. I was so enamored of her as a child that she shaped my love of dragons for ever after. Which probably wasn't what Disney had in mind, but I was always an odd child.


*listening closely, you can hear me applauding Disney's unintended consequences in the background*
The second book, The Name of All Things, drops this year at the end of October (!!). How did we get so lucky to have two books from you in one year? Also, I heard rumors it's a five book series. Please tell me these rumors are true.


Tor suggested (and I agreed) to a fairly aggressive release schedule, in part because I'm a fast writer and why make my readers wait if we don't have to? So since the plan is to release the books roughly nine months apart, it all fell from the decision to release the first book in February. I'm so thrilled everyone's going to have the second book by the end of the year. And yes, it is a five book series.
I think I can speak confidently from your readers that we're pretty stoked about this decision, so thank you! How do you balance being a videogame designer by day and a writer? Any advice for those who are still trying to make the dream of being published come true?
Producer, not designer! (They're different, I promise.) I'm currently taking a break from video game production to focus on the writing for a while. However, I did write the The Ruin of Kings when I was working full time. The secret was focus, by which I mean I had to make some sacrifices. If I had a choice between playing video games for an hour in the evening after work or knocking out a couple thousand words, I made the decision to pick the couple thousand words. I have known a lot of people who want to be writers but fill their lives up with excuses not to write–and while there is nothing wrong with that–at some point, you have to make a choice about priorities. I'm not saying it's easy, but at the end of the day, no one becomes a writer until they figure out how to put the words down on the page. In whatever manner works for them.
Also, writing sprints saved my life. The idea of sitting down and writing for the evening is daunting and easy to put off for another night for any number of entirely legitimate reasons. Instead, I told myself I was just sitting down to write for 30 minutes. And then 30 minutes more, after dinner. And another 30 minutes before bed. The Ruin of Kings was written 30 minutes at a time.
My apologies, I definitely read "producer" on your bio and completely botched it in my question! Thank you for fixing that for me. 🙂
You've been compared to Sanderson and Rothfuss. I compared you to Scott Lynch, as well. But when people start comparing books to you in the upcoming years, saying, "Oh, this reads like Lyons" (and I have no doubt they will) what aspects of your writing or novel do you hope they highlight?
What a good and frankly terrifying question. Besides extremely complicated family trees, I would like to think they'll be referring to a combination of humor, worldbuilding, and pacing.
And the death count. Dear god, but I do kill a lot of people.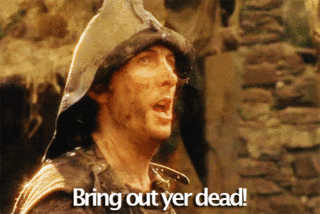 Another fun, but potentially dreaded, question: I couldn't help but think of how perfect your story would translate on screen. Do you have a dream casting?
I don't! Okay, there's one exception, and you'll probably laugh, but I always pictured Vin Diesel playing Thurvishar. Also, I want to cast Shohreh Aghdashloo as…someone…just because I love Shohreh Aghdashloo. Otherwise, if this ever comes to any screen I just have to cross my fingers, hope to do better than Ursula K. Le Guin did with the whitewashed television adaptation of Earthsea.
More surprise than laughter, but I agree: if it does ever get adapted, I hope it stays true to your origins while adapting to the needs to cinema as a different medium. And I'd be willing to give Vin Diesel a shot to change my mind. 😉
What's a question you wished you were asked during an interview but never have been? Please answer it here!
Oh, I'm still quite new to this whole interview process, you know. Let's come back to this one in a few years.
*marks calendar for future release date interview* Duly noted.
Anything else you wanted to speak about or want fans to know, but I didn't already ask?
Don't wait for the series to finish to buy the first book. This doesn't just speak for my own work, but for a lot of fantastic new authors out there. I see this comment a fair bit, usually with an explanation that the reader has been burned by authors who are taking years to finish the next book in a series. (And you know who I'm talking about. I don't need to call anyone out.) While I get how crushing that disappointment can be (writers have died on us, after all), the economics of publishing are such that a reader who does this is betting on a sort of literary herd immunity. That enough other people buy the first book to guarantee profitability and thus sequels. If everyone does this? Then the series won't be finished. And as much as I'd like to see an author complete a series they've been working on for years, I find it far more soul-crushing to know a fantastic series was dropped into a ditch because everyone was waiting for all the books to be released before they even started.
Finally, where can people connect with you and buy your books? In what ways can readers support you during this debut year?
MacMillian Publishers
That's the master link to pretty much every bookstore carrying The Ruin of Kings, from the big chains to local indie bookstores (who will also pre-order or custom order if asked.) And the main things readers can do to support any author, myself certainly included, (besides buying the books–THANK YOU!) is leave a review and talk about the book to their friends.
Word of mouth is gold.
Thank you so much for letting me interview you and pick your brain! It truly was a pleasure!
Thank you for letting me ramble on. And thank you for that really lovely review, too.
---
About the Author:

Jenn Lyons' childhood was spent in the safe havens of local libraries and bookstores, where even as her artistic talents began to develop she continued to nurture her love of science-fiction, fantasy, and noir detective stories. Being pale, not a friend of sunlight, and not much of a morning person, she set her sights on a career that would allow her to stay indoors or work at night (her favorite career pick was 'cat burglar') but she was devastated when she discovered that she would not, in fact, ever be able to marry Batman. Older but wiser, she turned from the life of a jewel thief to tackle a career as a graphic artist and illustrator, spending the next 20 years working in print media and advertising. The girl with too many hobbies (a list that included video games, table-top RPGs, LARPing, comic books, and costume design.) Jenn was irresistibly drawn to making things up storytelling.
After making a dramatic shift in careers from graphic artist to video game producer, Jenn Lyons began to seriously dedicate herself to writing.
Her debut epic fantasy novel, The Ruin of Kings, is scheduled for release from Tor Books on February 5, 2019. The second book, The Name of All Things, drops October 29, 2019.
Jenn Lyons lives in Atlanta, Georgia, with her husband, Michael Lyons (who is also a writer — and may or may not be Batman,) a bunch of cats, and a whole lot of coffee.
You can connect with Jenn at her website and Twitter.