You have probably seen this tag–the Mid-Year Bookish Check-In–floating about the blogosphere everywhere over the past few weeks. Personally, I think it's really fun, yet I always forget about it until I see someone else do it and I'm like, "Oh yeah, I want to do this!" If you want to compare, you can see my answers to the 2020 tag here.
For a few quick stats, just for fun:
Books read: 25/50
Most popular genre: Fantasy (50%)
Most popular age range: Adult (100%)
I promise I'll do more in-depth stats at the end of the year!
The original tag was created by ReadLikeWildfire and Earl Grey Books.
The best book you've read so far this year?
The Rage of Dragons by Evan Winter. I'm not sure if it is because it surprised me so much by how GOOD it is, if it's the refreshing introduction of African lore, the fantastic cast or the amazing writing, but wow, did I just fucking love this book.
The best sequel you've read this year?
This wins both as the default (man, I've read a lot of starts of series this year, oops…) and because it was a damn good sequel, but the honors go to Ioth: City of Lights by D.P. Woolliscroft.
New releases you haven't read yet but want to.
I mean, most all of them, but I think the top 2021 releases I haven't read yet but want to include:
Hall of Smoke by H.M. Long
Catalyst Gate by Megan O'Keefe
The Jasmine Throne by Tasha Suri (currently reading it, though!!)
Most anticipated releases for the second half of the year.
ALL OF THEM? Seriously, we are blessed for books. But, most hype for:
She Who Became the Sun by Shelly Chan-Parker
The Bone Shard Emperor by Andrea Stewart
We Cry for Blood by Devin Madson
 Biggest disappointment.
The Captain's Rebel by C.B. Halverson. Very well written sex scenes but no character development or plot whatsoever, making it a lacklustre read.
Biggest Surprise.
I'd say the book below, because I didn't expect to love it as much as I did!
Favorite new to you, or debut, author.
Kristen Callihan!!! I did NOT expect to love Firelight as much as I did and wow, am I just itching to read the rest of her catalog ASAP.
Newest fictional crush.
Eammon from For the Wolf by Hannah Whitten. Like, I have a massive crush on him, but I also want to shake him by his shoulders and get him to open up, kings.
Newest favorite character.
Lucky Meas from The Bone Ships by R.J. Barker. Like, she is my captain, plain and simple.
Book that made you cry?
Like last year, no books have made me cry (yet). But the book I closest to was most likely The Unbroken by C.L. Clark.
Book that made you happy?
Is…is it bad that I wouldn't say any book has made me happy? Like, I've enjoyed quite a few books this year, but it's usually because the book ripped my soul out, made me angry or root for the characters; not made me happy.
This says a lot about both my current mental state and my choice of books, I think.
Favorite book to film adaption?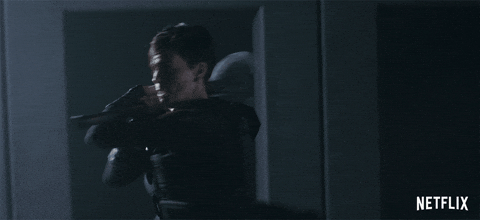 I haven't watched a ton of films, but hands down The Old Guard from Netflix, based on the book by Greg Rucka and illustrated by Leandro Fernández. Like, holy shit, that film. I really should read these.
Favorite post you have done this year?
Wow, that's…um, hard, honestly. I've written a lot of posts this year and I'm very proud of many of them!
Top Posts include:
 Most beautiful book you have bought this year?
Most definitely Master of Poisons by Andrea Hairston, since I have no idea what this book is about, but literally bought it because the cover was so captivating!
What books do you need to read by the end of the year?
I have so many bloody books I want to read by the end of the year, so even that is really hard to chose. Top books I really hope to read include:
A Closed and Common Orbit by Becky Chambers
Dukes are Forever by Bec McMaster
Chaos Vector by Megan O'Keefe
Jade City by Fonda Lee
The Mirror Empire by Kameron Hurley
And there are my answers for this year's mid-year bookish check-in! I hope you enjoyed reading it as much as I enjoyed panicking about how many books I want to read writing it! If you've done this tag, please feel free to link it in the comments so I can make sure and see your answers!