Last Updated on December 8, 2020 by ThoughtsStained
Oh, dear reader.
So, this is a bit of an impromptu post, even though it's something that is always on my brain, it feels like. But after reading Destiny's thread, which has since inspired posts like Josie's (who had also written about it before) and then also helped me find another post by Kathy, now of course I want to write about it, too. Do we need another post about book bloggers and why they should be more forgiving towards themselves, even though all of these bloggers aforementioned do such a great job talking about it in their posts?
Honestly, I think we do.
Because this is a really pertinent topic and I think it's one we honestly can't talk about enough, especially because we do this to ourselves (and I am so guilty of this, shit) and it's nice to have that reminder that we're doing okay.
Here's the thing. There is a lot of pressure in the book review world, whether it's prescribed by others, a false standard we think we have to meet or the ridiculously high standards we place upon ourselves. Whether it's to read 1,000 books in a month, hit every review copy publication date, join every giveaway, meme, hashtag, host all the events or or blog tours, post every day or have the most beautiful aesthetic; there is the possibility to ask a lot of ourselves and many of us probably ask and stress too much.
Personally, I am ridiculously stressed out about ARCs (still, even though I wrote this post about it before and received some great advice). I'm so lucky to get getting them from Orbit Books right now, especially because they published some of my favorite books and I just want to read all of them. Receiving these books are such a privileged and I am so honored by that.
That being said, I'm still quite behind.


I've been trying to get caught up on my backlog (furthest back is May), which is Wraith of Empire by Brian McClellan. But, I hadn't read any of McClellan's work when I requested it. I just had always wanted to and thought making that commitment would finally force me to do it (and it worked!). So, I've been binging his books and loving them, holy shit, yes. But, I usually only read roughly one book a week, or four a month. Since I've been reading The Powder Mage trilogy to prep for that book, now I'm even further behind on the current ARCs. And, being me, I've made the goal to get completely caught up on ARCs by Christmas.
That was before my late entrance as an SPFBO judge, which definitely takes priority.
So, what have I been doing lately?
Beating myself up for being "so behind." For not "reading enough." For every minute I'm spending reading an SPFBO entry, I'm beating myself up for not reading an ARC. And then all the other books I want to read, without any sort of commitment, has completely fallen off the radar. Or beating myself up for only reading during my dinner breaks and playing Assassin's Creed: Odyssey during my free time at home (seriously, I'm addicted), when I could spend that time reading. Or trying to increase my writing output, which also takes away reading time.
Or.
Or.
Or.


But here's the kicker. Every email I sent to Paola at Orbit, whether it's an update or a response with my request for the next batch of books, I am constantly apologizing for begin behind. And Paola, bless her (she's wonderful) even flat out told me to stop stressing and that, really, if it's within a year of receiving the book, she's cool with it (and even if it's later than that, she'd just really appreciate me reviewing books I promise to review).
But who's still beating themselves up for being a couple months behind at the max or a few days at the minimum?
*points at self*
That doesn't even account the batch of books from October that arrived after the publication dates due to a miscommunication error (obviously, no harm, no foul, shit happens). But am I still beating myself up for not reading them on time, even though they hadn't even reached me yet? Or the fact that sometimes, the books will have arrived in the mail, but I have them sent to my parent's house instead of my sketchy neighborhood, so they don't get stolen, but that sometimes results in a "delay" of me getting them?
*points harder*
Here'a quote I'm stealing from Josie's first post I mentioned above that sums it up really well, I think:
Most of the bloggers I've worked with are hyper-diligent over-achievers, who have a tendency to beat themselves up if they don't reach the sky-high standards that they set for themselves. They don't need anyone to chase them for reviews because they're already doing more than they should be. — Josie
Look, I get it. I realize how lucky I am to get to do what I do. I love having this blog. Interacting in the comments is one of my favorite things and one of the highlights of my day. Receiving books, for free, and being connected to publishers and writing reviews and authors then INTERACTING WITH ME (*squees into infinity*) is so surreal and I am so lucky to be in that position. I love being able to write reviews that make authors feel good or help readers find books they will come to love (or remind them why they should totally read that book they've been meaning to). It's wonderful.
Of course I'm terrified I'm going to lose it all if I "mess up" by "not hitting standards that no one created but my own, overachieving, perfectionist, overthinking brain came up with."
But read that sentence again.
I'm not going to lose my opportunity with Orbit if I don't get caught up in all my ARCs or don't hit every publication date.
I'm not less of a book blogger if I don't participate in every meme or feature, do bookish challenges, have a bookstagram account or take awesome photos or have a wonderfully appealing aesthetic (even though I want to be able to do those things).
I'm not less of a reader if I only read one book a week; or a month; or a year.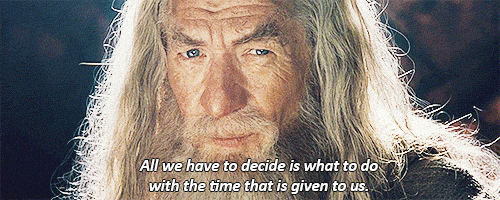 What I am is a human (maybe) who loves to read and likes to write it about it on this blog, because I love the connections and the community so much around it (because no one else in real life will sit with me long enough to let me stutter profanities at that cliffhanger or cry at that character death or fantasize about that rogue like you all do). There is only such much time in a day, in a life, and it shouldn't be spent beating yourself up over something you do to bring yourself joy.
And what I need–I think what all book bloggers might, potentially, need–is a forgiving grounding in reality.
You are enough, just as you are, with all that you do.
Enjoy it, appreciate it and always be honest and put your heart into what you're doing.
If we do that, can we really fault ourselves for everything we seem to do?
No…no, I don't think so.
Read on!