Hello, dear readers!
So, we had a lovely ice storm hit that caused my normal two day weekend to turn into a four day weekend and I spent the entirety of it playing Kingdom Hearts: Re:Chain of Memories and then starting Kingdom Hearts II with my boyfriend, hardly moving from the couch and getting absolutely nothing productive done, so now my To-Do list is completely off the charts. So while busy is an understatement for this week, this past weekend was also amazing and I don't regret it one.bit.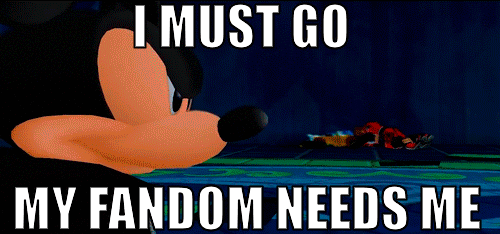 Writing: Write two books and edit two books. Query at least one.
Last Week's Goal: Actually start putting together feedback.
Weekly Goal: Read through line edits, further flesh out backstory and make game plan.

I read through all the feedback I have and a have a pretty good idea of the aspects I need to work through. Now, just need to read through all of the line edits and catch any other ideas/issues to round out my list, before fleshing out the backstory and the lore of the world a little bit more. Then, I'll make a list of specific edits and finally be able to dive into round two of edits!
Health: Educate and Execute.
Last Week's Goal:  Workout 4x. Cut back on weekend snacking.
Weekly Goal: Workout 4x. Be more aware when eating on the weekends.

So, I only worked out twice, thanks to the ice storm (this girl is not driving 15+ minutes across town on ice). Granted, I should have worked out inside at home, despite the cramped space so I at least was doing something. Instead, I had a lazy extended weekend (which included lazy eating) and I'm not going to beat myself up over it. But, also not going to deny I could do better this week, too.
Reading: Make reading a priority. Read 75 books.
Last Week's Goals: Read Nightchaser.
Weekly Goals: Start next SPFBO book and library book.
Blog: Continue blogging consistently and figuring out my brand.
Last Week's Goals: Keeping up the grind.
Weekly Goal: N/A.
Financial: Frugality and Flexibility.
Last Week's Goals: Stay on top of my budget and continue to stick with it.
Weekly Goals: Stay on top of spending.

Though I think I'm doing better at not just randomly spending, I also think that it's…hard to try and not spend more than $150 per month, which kinda surprises the frugal part of me. Between birthdays, holidays and events that come up, plus the random date night here or there (not to mention appointments and the like)…well, it adds up quickly. I'll be curious if I have to amp up this budget or if I can keep it relatively close.
Last Weeks Goals:
Catch up on Muses prep.
Read Jeff's manuscript and send feedback.
Write student Letter of Recommendation.
Finish third SPFBO book.
Start looking at potential breeders for puppy?
Other Weekly Goals:
Finish short story for Muses.
Read for Tolkien Society meeting.
Finish both student rec letters.
Training session.
Go by library and stationary store.
Future prep stuff.
Right now, I'm just trying to stay positive, even though my brain is ready for spring, yet winter is still in full swing. But having a massive To-Do list to keep your brain off the temperature sure doesn't hurt, either. 😉
I hope you have a productive and positive week!
Cheers.