Last Updated on February 12, 2016 by ThoughtsStained
Not Real: Unfortunately, this post isn't about The Hunger Games or related to it in the slightest. Well, except for the fact that I'm borrowing Peeta and Katniss's way of discerning reality and expressing their love for one another to help make a point. But besides that, this post isn't related to The Hunger Games. 
Real: People using the excuse, "It's just a INSERTFORMOFMEDIAHERE" and believing that is a valid excuse to excuse whatever emotional trauma you just went through and felt vulnerable enough to share with them.
News flash: that excuse is inadequate. Why? Because it goes against the very reason media–and I'm talking books, video games, film, television here, though it can be applied to many things–is created in the first place: to help us escape reality and to make us feel something. 


Those reasons aren't new. They aren't some special secret that only people who partake in these forms of media discover. It is kind of the unspoken reason why anyone binge watches Netflix during their entire weekend. Or why we spend half a paycheck on books and keep our noses buried in them. Or why our thumbs get sore and our contacts dry out from staring at a screen with a game controller in our hands, staying up until five in the morning when we have school at seven. It's because books and film and video games were created to help us escape or relax or forget about whatever is stressing us out or to still enjoy.
But media isn't created for only those reasons, but I also argue that they are something to become passionate about. Yet also something that nerds and geeks shouldn't be afraid to be feel passionate about them. Often times, I have been ridiculed for getting too "into" something that "isn't real". I'm not alone in that fact. Instead of labeling nerds and geeks as people with passion, they are labeled as obsessive or weird or crazy. While my love for Dragon Age might be borderline obsessive, I don't think that should stop me from embracing a game that has meant so much to me in my life and loving it with every fiber of my being. For me, it isn't just a game. When it comes to video games, books, films, television, if they are being done right, it is never just anything. It's real, for the time that you're immersed in it. It's so very real.


So next time someone comes up to you crying after they finished a book in series, don't be so quick to place a label upon them. Instead, ask questions. Try to understand the emotional trauma they just went through at the hands of a paperback. When someone spends every bit of free time playing video games–or replays the same game over and over–instead of labeling them as obsessive, create a dialogue with them. Ask them what about the game is so fascinating to them, so compelling. When someone rants about how the book was better than the film (a myth I wish I could debunk; that's a thesis, right there), listen. When you see someone post pictures of the latest character they cosplayed as, instead of judging them for dressing up as their favorite character (I mean, you dress up as your favorite sports star every Sunday with your jersey, so why must they be judged for putting more time, effort, money and creativity into their passion than your trip to Wal-Mart?), ask them about what that experience was like: how did they make the costume? What other characters did they see and love?
You'd be so surprised what you can learn about a person when you ask them "Why" or "How" instead of saying, "It was just a INSERTHEARTWRENCHINGMEDIAFORMHERE." Because when they express these emotions related to the passion of their choice, it is a unique form of vulnerability they are showing you. And if you ask more about it instead of automatically dismissing that emotion because of its source, you can learn things about that person that they might not normally express. Why do you think they Cosplay? Why would they suddenly become invested playing as the Inquisitor and saving Thedas? Why do the stories where the dogs die make them cry for days yet the stories when the baby dies just makes them frown? The emotions they feel and their expression are so very real. So are their reasons behind why.
Of course, I'm overly creative and get overly into things, so maybe that is why I am so passionate about nerds being able to express their passions in a supportive and open environment. But I think that if a kid who wants to be an athlete when she grows up, so she practices at every opportunity, follows scouting reports, travels to games, plays on three different teams and gives it her all because she is passionate about it; if she is labeled as dedicated and people love to learn about her motivations behind her passion, then the same treatment should go to the kid who, in his free time, would much rather read an entire series in one weekend secluded in his room, and then when he finally talks about why the last book made him scream into his pillow at dinner the next night, he isn't ridiculed as obsessed, crazy or overacting because it was "just a book."
If you read a book, watch a film or play a video game, and you feel afterwards it was just anything, then the job wasn't done. Find your creative passion and seize it.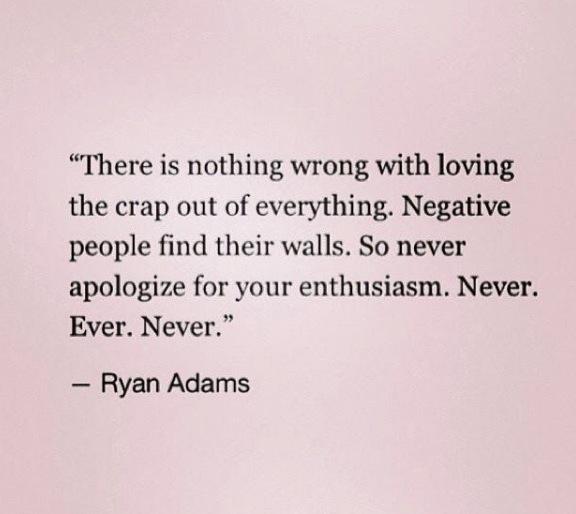 Cheers.