This book was a whirlwind, for me, so I apologize if this review is a bit all over the place.
Let me start off with a story.
This book, Something Beautiful, was written by one of my awesome Twitter friends, Amanda Gernentz Hanson. We've been friends since before this book was published and out in the world. It's been amazing to support her and be supported by her, in our writing journeys; amazing to watch her own journey flourish and grow, from writer to published author. When her book finally came out in the world, she was kind enough to surprise me with a personalized copy (and with a shout-out in the acknowledgements section, you sweetheart <3). Of course, life got in the way and I had a couple other books I was dying to read, so I didn't start reading it until a couple days ago.
When I read the back cover, I was terrified I wasn't going to like it.
You see, I had no idea what this book was about, beforehand. I supported Amanda unconditionally, but it wasn't until I read the back cover that I realized I actually did not know too much about her debut novel (so yeah, maybe not the best support system, to be honest). I saw it was a contemporary romance. If you know me at all, fantasy and science fiction are my jam. I enjoy romance, but I devour regency paperbacks or steampunk picks.
I actually really don't like reading contemporary books. Nothing against the genre or anything of that nature, it's just not really my thing.
But this was my friend's book we're talking about. I wanted to give it a shot.
So I did.
And then the whirlwind started.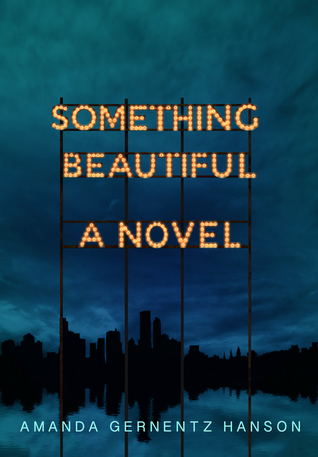 Initially, I wasn't a huge fan. Mostly because it's really not my genre (um, where are the dragons?) and I kept getting irritated with Cordelia and Declan's fascination with each other, to be honest. I wanted to wrap my arms around Cordelia and tell her: "You know, honey, there is more to life than him, right?" I actually felt like parts were a bit melodramatic and I was dreading the review. How do I write a negative, honest review about a good friend's book?
But then I got to the second half.
Which I read in one sitting. I can't tell you too much about it, because I don't want to give away what happens, so my apologies that this is vague and tells you nothing.
It's when I got to the end and finished it that I really began to think about what I read, especially thinking about the contrast I felt between the first half the book and the second; when Cordelia and Declan were growing up and then in high school, juxtaposed to when they were in college and beyond. I realized something.
Amanda is a very talented writer.
Granted, her strength as a writer was evident already. That was never a question for me. It's what she did with this book that impressed me.
You see, it wasn't until I started thinking about the first half the book, trying to figure out why I didn't like it, that I realized how real it truly is. When I got annoyed or irritated with Cordelia and how she was acting, it wasn't until I thought about my own actions in high school that I saw reflections of myself in her. It wasn't until I thought about how I treated some of my old crushes or my man currently, that I began to understand what she was feeling about Declan. It wasn't until I remembered my own melodramas that I've lived through–hell, isn't that what high school is, most of the time?!–before I really comprehended hers.
Sure, a lot of the things Cordelia dealt with, I don't have much experience with, being straight. My own experiences with anxiety and depression never reached the levels that hers did, though I've been close to those individuals who have. So this book was a complex blend of elements I recognized, though it took some reflection to realize the reality of them, and things I had no idea at all about, which helped me open my mind a little bit more.
And that was really neat.
It's a book that's not normally my cup of tea, but I'm really glad that I read it. I am really impressed with the way that Amanda wrote a story that made me feel, made me question and made me reflect–hard–to figure out what I felt by the end of it. That is, hands down, the most impressive part about this story. If you are a fan of this genre, I definitely recommend you check this out.
Amanda, I'm so excited for you and that you have your book out in the world. I may not always be the ideal reader for the stories you were born to tell, but I'm so proud of you for telling them. And you know I'll keep reading them and supporting you, always. 🙂
Read on!