Last Updated on December 8, 2020 by ThoughtsStained

Thank you so much to Kathy @ Pages Below the Vaulted Sky for tagging me in this music-themed tag! I've never done a music one like this before and I have to admit, the music aspect was a little bit challenging for me. I love music, but I had to really think to come up with the answers on some of these!
Also, now you get to see my super eclectic range of music tastes, because friends, I definitely have a lot of these.
[MY JAM]
A SONG YOU HAVE TO LISTEN TO NO MATTER HOW MANY TIMES YOU'VE HEARD IT
"2nd Sucks" by A Day To Remember: It was hard just to pick one song from this band, because they are one of my All-Time favorite bands, um, ever. So I could have really picked a lot of their songs. But this is my go to song of theirs, I think, when I just need to get some emotions out or I just want to jam. Plus, this song is incredible live.
Honorable Mentions: "Simple Man" by Shinedown, "Pet Cheetah" by Twenty One Pilots and "The Bridge Of Khazad-Dum" by Howard Shore.

A BOOK THAT YOU'LL NEVER GET SICK OF
This might be a completely cliché answer, but it's an honest one for me. I've reread this series so many times, yet I'll never tire of returning to Middle-earth and enjoying the stories that I have always loved so much.

[THROWBACK]
A SONG THAT REMINDS YOU OF THE CRINGIEST TIME IN YOUR LIFE
"Intro" [Poison Album] by Bullet for my Valentine (ft. Apocalyptica): SHIT, remembering this song and listening to it again gave me all the bloody feels. I remember getting my heart broken for the first time after receiving mixed signals and I locked myself up in my bedroom and literally listened to this on my CD replayer with my headphones on and cried on the floor for an entire weekend.
Yeah, fun times.
Honorable Mentions: None for this one, as I struggled enough to come up with something (and I'd rather not think about it more than I have to).

A BOOK YOU READ THAT YOU WOULDN'T LIKE NOW
The Woman in White by Wilkie Collins: I remember enjoying this book during my college years, but I'm not sure if I would enjoy it so much now, but I'm honestly not sure. Maybe I would? I struggled with this one on the book category.

[REPLAY]
A RECENT SONG THAT YOU HAVE ON REPEAT
"Face My Fears" by Utada Hiraku & Skrillex: You better believe that I've become addicted to this song, just like I have Simple and Clean and Sanctuary after the release of Kingdom Hearts III (which I still haven't beat, so please, NO SPOILERS).
Honorable Mentions: "Love It If We Made It" by The 1975, "Bury a Friend" by Billie Elilish and "Let it Die" by Starset.

A RECENT FAVORITE BOOK
Seven Shades In Black by Sam Sykes: If you read my review, you know I devoured this book and it left my reeling. It's definitely a new favorite and will be a favorite for a long, long time.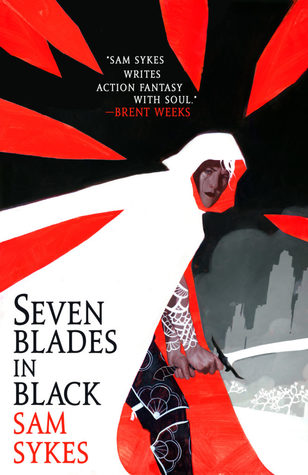 [GETS ME]
A SONG THAT'S LITERALLY ME
"Stressed Out" by Twenty One Pilots: My first nickname growing up was "worry wart" and I think being constantly stressed is just new elevated state of being, honestly. Also, it talks about wishing for the ability to turn back time, dealing with student loans (MY BANE) and the line: "My name's Blurryface and I care about what you think," is me.
Honorable Mentions: I'm sure there are some, but I couldn't come up with any more for the life of me.

A BOOK THAT IS ME IN BOOK FORM
A Promise of Fire by Amanda Bouchet: So, there is a lot in this book that is not me. Like being royalty, on the run, kidnapped, having magical powers or…well, most of this book, actually. HOWEVER, the reason this book popped up first in my head is because I identified with how Cat emotionally responded to what was going on around her so much. Like, I'd never seen someone who deals with doubt the same way I do portrayed so well, so that's why I picked this one.

[WUT]
A WEIRD SONG THAT YOU LIKED ANYWAYS.
"The Grand Pecking Order" by Oysterhead: Yeah, my Dad got me into Classic Rock as a kid, so I always had some different tastes in music, but I think listening to this Oysterhead album on repeat was definitely one of the weirdest favorites that I can still sing all the words to.
Honorable Mentions: "Wonderboy" by Tenacious D or "Breaking Down the Borders" by Miracle of Sound.
https://www.youtube.com/watch?v=oTlwdvwSrLs
A UNIQUE BOOK THAT STUCK OUT TO YOU FOR SOME REASON
Here, There Be Dragons by James A. Owen: I will never not try to turn people onto this series. I just freaking love it and the ending blew my mind so utterly that I have never been able to get enough of it.

[LET'S GO]
YOUR BEST PUMP UP SONG
"Start a Riot" by Duckwrth and Shaboozey: Honestly, I just play this song at the gym on repeat, because currently, THIS IS MY JAM.
Honorable Mentions: "Sick Fiction" by Jamie's Elsewhere, "Growing Up Londiunium" by David Pemberton and "U-Rite" by Rynx.
https://www.youtube.com/watch?v=W2QUFEy4KFM
A BOOK THAT INSPIRES YOU
The Lies of Locke Lamora by Scott Lynch: There are actually a lot of books that inspire me (it's one of my favorite reasons to read, honestly). But the way this book was written, the cast of characters and the depth of emotion…I mean, this is everything I want to achieve as a writer, one day.

[CHILL]
YOUR BEST CHILL OR RELAXING SONG
Skyrim Atmospheres by Jeromy Soule: This was my No. 1 played track in all of 2018, if that tells you anything. But it's my go-to song to play whenever I want some background noise and I'm just trying to relax, whether I'm at home or at work.
Honorable Mentions: Soundtracks from Cloud Atlas by Tom Tykwer, Mass Effect 3 by Sam Hulick and Horizon: Zero Dawn by Joris De Man.

A BOOK YOU'D CURL UP WITH ON A RAINY DAY
Kings of the Wyld by Nicholas Eames: Because who doesn't want to curl up and binge a book in a day that makes me laugh and cry all at the same time?

[ADDICTING]
A GUILTY PLEASURE SONG
Mi Gente by J. Balvin and Willy William: I am freaking love this song. I don't know if it counts as a guilty pleasure, because I definitely blare this and dance like a fool every time this song comes on my Spotify, but I'm listing it as a guilty pleasure because it makes me dance and I can't dance, yet do it anyway (as long as no one can see).
Honorable Mention: "MIC Drop" by BTS, Desiigner and Steve Aoki.

A LIGHT, TRASHY READ YOU CAN'T HELP BUT LOVE
The Iron Duke by Meljean Brook: I love romances and this one definitely jumpstarted my steampunk vein, in particular. But something about a well-written sex scene that seduces me while I read it is just…*chef kiss* perfection.

[NOSTALGIA]
A THROWBACK SONG YOU LOOK BACK ON FONDLY
"A Pistol to My Temple" by Scary Kids Scaring Kids: I became ADDICTED to this album (of course, after this band broke up) back in middle school and I recently rediscovered it, and can still sing all the words, so I consider it a throwback that I can still jam to.
Honorable Mentions: Anything by Shinedown or After Midnight Project.

A BOOK YOU READ AND LOVED WHEN YOU WERE YOUNG
Alanna: The First Adventure by Tamora Pierce: I read this book after my Aunt bought it for me when I was in middle school because she knew I "liked to read" and the cover "looked cool". She has no idea how transformative this story would be for me or how much Pierce's stories captivated me. I am very much due for a reread.


This was a really fun tag! It's one of the more challenging tags I've done, because it really made me think, but I had a lot of fun doing it. I tag:
No pressure if you don't want to do the tag or don't have time! Or, if I didn't tag you and you really want to do this, please, by all means. And if you decide you want to do the tag, please link back so I can read your post! 🙂
Thanks for reading!
Cheers.