Title: The Poppy War

Author: R.F. Kuang

Publisher: May 2018, Harper Voyager

Blurb: When Rin aced the Keju, the Empire-wide test to find the most talented youth to learn at the Academies, it was a shock to everyone: to the test officials, who couldn't believe a war orphan from Rooster Province could pass without cheating; to Rin's guardians, who believed they'd finally be able to marry her off and further their criminal enterprise; and to Rin herself, who realized she was finally free of the servitude and despair that had made up her daily existence. That she got into Sinegard, the most elite military school in Nikan, was even more surprising.

But surprises aren't always good.

Because being a dark-skinned peasant girl from the south is not an easy thing at Sinegard. Targeted from the outset by rival classmates for her color, poverty, and gender, Rin discovers she possesses a lethal, unearthly power—an aptitude for the nearly-mythical art of shamanism. Exploring the depths of her gift with the help of a seemingly insane teacher and psychoactive substances, Rin learns that gods long thought dead are very much alive—and that mastering control over those powers could mean more than just surviving school.

For while the Nikara Empire is at peace, the Federation of Mugen still lurks across a narrow sea. The militarily advanced Federation occupied Nikan for decades after the First Poppy War, and only barely lost the continent in the Second. And while most of the people are complacent to go about their lives, a few are aware that a Third Poppy War is just a spark away . . .

Rin's shamanic powers may be the only way to save her people. But as she finds out more about the god that has chosen her, the vengeful Phoenix, she fears that winning the war may cost her humanity . . . and that it may already be too late.
I don't think I've ever been so terrified to read a book in my entire life.
Everyone and their cousin has read The Poppy War, as far was I was aware. And I never really knew what the book was about, necessarily: only that it broke people's hearts. And then, when The Dragon Republic came out and everyone began panicking even more, talking about how these books bring them pain and suffering, but they enjoy it so much, I knew–I knew–that once I finally stopped cowering like a coward and read this book, I would love it just as much as the other bloggers I follow do and would hurt just as much.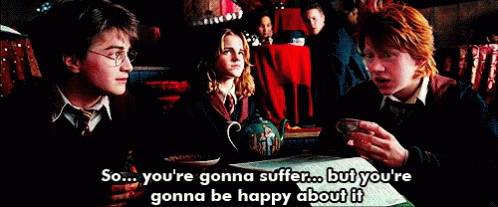 Guess who finally gets to join the Rin-breaks-my-heart club?
*waves*
I mean, this book was nothing short of incredible, honestly. I got it from the library, sat down to read it during a slow desk shift (don't tell my boss) and, in a blink of an eye, I'd read Part One in it's entirety (even if the beginning did give me very painful suppressed flashbacks of my time in high school and taking Advanced Placement exams, which I was not prepared to confront again). But I was on edge the entire time, just waiting for the pain to come. Like, so far, things have been rough, shit has gone down, I've muttered, "Fuck" at least a dozen times and I'm so invested in Rin and her life that I didn't even notice time passing as I devoured a third of the book without breathing. But nothing to completely shatter me into oblivion, like I'd been lead to believe.
The next day, I read Part Two and nerves are still high. I'm anxious and I can't read nearly fast enough to satisfy my desire to not only know what happens next, but to finally just have my heart be shattered so we can get this over with. But, even in this turmoil, I was enjoying every minute of it. I loved Rin, I loved what she was discovering, I loved seeing her grow during her time at the school. I thought it was written in such a beautiful way, no review of mine could ever do it justice.
And then, I reach Part Three.
Finally.
Pain, there you are.
So, what everyone was talking about? Spot on, because Kuang hurts you and then does it again and again and again, until you're staring at the back cover of the book unsure of what you just experienced and if you're actually okay. And then, I had to do a lot of soul searching that still isn't complete, because what Rin did? I approved of it. I wanted it to happen, mostly because…I think I wanted to see if she would go that far? I don't think I've ever seen a character be willing to do…well, that, in the name of revenge, so driven by hatred and anger and spite. So when she called my bluff and went that far, I could only be impressed and slightly awed. But also, my heart shattered, because how is she supposed to survive the aftermath of that, mentally, emotionally? I just want to hold her and tell her it'll all be okay, that she can make it through this, that one day, she can rest, even though I'm pretty sure none of those things are even remotely close to being truem after what she did? After what's been done to her?
Especially when you look at what has been set up for book two…
Friends, I am so not prepared.
But I'm so desperate to know what happens next.
I think it's pretty obvious that I enjoyed this book immensely. It's unlike anything else I've ever read (and one of my first introductions to grimdark, a genre I will definitely read more of). I fell in love with Rin, was fascinated by her world, hated her enemies, hated some of the shit she herself pulled and how foolish she felt, but supported her 110%–and then questioned who I am to be able to do that, after…well, you know.
I think this is a book everyone should be broken by read, because it's going to shatter your world, but you're going to enjoy it happening. And who doesn't want a book that can do both?
Read on!