Hello, lovelies!
I hope you're all doing okay. I discovered this tag over at Mary's blog, Mary and the Words, and, as a huge Tolkien fan, there was no way I couldn't participate. I mean, any chance to talk Tolkien, you know I'm going to do.
So grab your lembas bread and your pints, settle in and let's nerd out, Tolkien style.
How did your Middle-earth journey begin?
Oh, 2001, what a good year you were. The first film had just come out and my Dad was actually really excited to go see it. I remember that being so rare, as my Dad is a pretty mellow guy, so it was…almost weird, to see him excited about anything other than sports. He took me with him to see it, despite me only being nine years old. Little did he know that it would completely alter my life, as that was when I truly fell in love for the first time.
It also started my obsession–and I'm not ashamed of calling it that–of all things Tolkien and Middle-earth. I first read The Lord of the Rings trilogy when I was 11, after seeing all of the movies in theatre, and have reread them multiple times since then. I have an entire bookshelf dedicated to Middle-earth collectibles, wrote my undergraduate thesis on Tolkien, participate (admittedly off-and-on) with my local Tolkien Society chapter, have the entire films (extended editions) memorized verbatim (including Elvish and Black Speech) and have a sleeve dedicated to Tolkien.
Yeah, my Dad had no idea what would happen that fateful day.
What is your favorite Middle-earth book?
Hmm…that's a hard one, but I think The Return of the King. Seeing everything come together and good finally conquer evil was just so rewarding, especially after traveling on such a long and epic journey.
What is your favorite movie?
The Fellowship of the Ring, hands down. I just love learning about Middle-earth and being introduced to so many characters and so much lore. There is a sense of wonder as we explore, before we truly understand the scope and depth of what is at stake.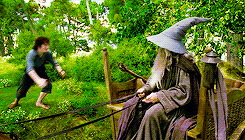 Movies or books?
Honestly, I have always been afraid to answer this question, because a part of me thinks I'm betraying my fandom or my identity of a Tolkien fan when I admit this, but…100% the movies. Don't get me wrong: Tolkien is the father of fantasy and a mastercraft storyteller, a worldbuilding overachiever in all the best ways and I will forever be indebted for what he has created. Yet, I just feel the films are more…accessible, sometimes, and my heart is truly obsessed with them. What Peter Jackson and his team did was beyond incredible and I think they set the bar.
Who are your favorite characters?
THIS IS SUCH A HARD QUESTION. Can I not pick all of them (this is also going off cinematic portrayal, as I know some of these characters are much different than how the trilogy presented them)? I have such a soft spot for Frodo. Faramir, I adore. Eowyn and Arwen, um, hello. Galadriel's power, Gandalf's kindness, Merry and Pippin's hilarity, Aragorn's perfection, the friendship of Legolas and Gimli. I mean, UGH. I can't just choose one.
But, I'm also odd in that I'm completely fascinated by the evil of this universe. The Nazgûl fascinate me, the Witch King of Angmar and the Fell Beasts are so badass. I could write about Balrogs for days, Wargs are so terrifying and the Orc, Goblin and Uruk-hai groups are incredible in their uniqueness.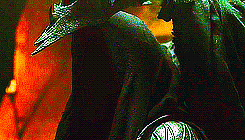 And that's just looking at the trilogy, not even diving into other lore from The Silmarillion or other sources!! I think that's why I am so obsessed with this series. There is so much complexity here.
What Middle-earth race would you be?
Growing up, I would have said Elf, for sure. They were filled with such beauty, grace and magic, it was impossible not to be fascinated with them and envious of them. Yet, I am very proud to say I am more of a hobbit in nature (and would like to become more hobbit-like, in fact). Their pure values, connection with the earth, their value of good food, hard work and good company; how can one turn their nose up at that?
Best actor/character casting match?
Oof, again, how do you chose? Especially after watching the Appendix and behind-the-scenes stories, seeing how much each actor dedicated of themselves and the amazing work they all put into this series? I am so happy of ALL the casting choices.
That said, I really think I can't imagine anyone else but Viggo as Aragorn, especially after knowing they originally cast a younger actor, before realizing they needed an older actor to truly fit into that role. Viggo did such a fantastic job (even breaking teeth and toes for this role!) and you can tell how much he enjoyed it and gave 100% of himself for this.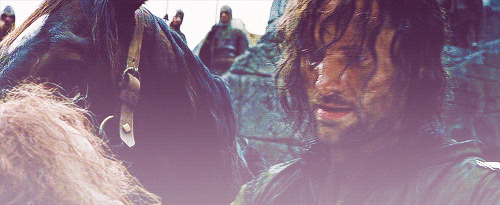 What is your favorite place in Middle-earth?
Seriously, why are all of these questions assuming I can ONLY pick one place and don't have multiple!? Literally have multiple answers for all of these questions and I am not ashamed. Hmm…top three would be:
Rivendell: The beauty of the architecture, the enclosure of the valley, the waterfalls pouring in from the cliffsides, the surrounding trees? Bilbo had it right when he wanted to retire there.
The Shire: Like the reason I want to be more hobbit-like, I just love the greenery and the gardens and Party Tree. I feel like it would be impossible to be stressed there, working at home or in the fields throughout the day and ending it with a meal and a pint from The Green Dragon.
Lothlorien: Ever since discovered Lothlorien, I have been fascinated by living in trees and the gorgeous architecture that Weta and team created to show off such a magical place as Caras Galadhon. Plus, I've always been addicted to forests and trees, so this is a natural place for me to be.
What is your favorite quote from the books or movies?
*deadpan stare at wanting to list thousands*
I think–though again, there are so many I could choose–the one I quote the most is this:
And there you have it! I hope you enjoyed my suffering at trying to just pick one answer for each of these questions. Fellow Tolkien nerds, I'd love to hear your own answers, whether in the form of a blog post or in the comments! <3
Cheers.