Last Updated on August 14, 2018 by ThoughtsStained

Welcome back to Top Ten Tuesday! Once hosted by The Broke and The Bookish, it is now hosted by That Artsy Reader Girl. It's a weekly book feature where a topical list-prompt is posted and readers respond with their top ten for that prompt! Yours truly tends to go over ten, but hey, what can a passionate reader do?
This week's topic is: Favorite Bookish Blogs or Websites
While the website option was tempting, the chance to highlight some bloggers that I admire out there in the book blogging world was something I couldn't pass up. I'm still growing and learning in the book blogging community, but those down below have made me feel particularly welcome and special, as well as posting content that is engaging, a joy to read, interesting and makes me excited for each of their posts (also, can we look at those blog layouts? Someone teach me how to create wonderful graphics and a layout for my blogs).
In no particular order, let's check out some awesome blogs, shall we?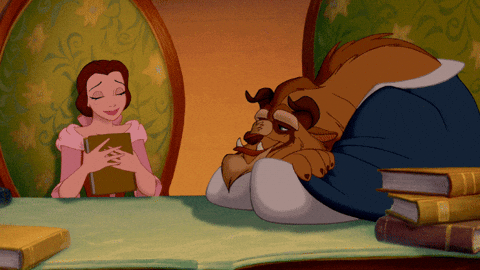 Sam @ Tsundoku: I met Sam through the awesome Summer Comment Challenge and I am so glad I did. Her reviews are always so in-depth and insightful, bringing up ideas and topics within books that I hadn't even thought to think about. Her layout is gorgeous, her taste in books top notch and I'm so glad I've started to get to know her! (Also, I never knew the world "tsundoku" until I stumbled upon her blog, but I absolutely love it!)
Kathy @ Pages Below the Vaulted Sky: I recently discovered her blog, as well, and completely fell in love. Her header catches your attention and then her wonderful reviews keep you there. It's always fun to find another book nerd who will rant to you about books and fangirl over characters with you and even though we've just recently connected, I feel like Kathy could be my girl in that regard.
Breanna @ Paws and Paperbacks: Any person who combines reading and dogs is a person I want to get to know. Add in such warm friendliness (like when I creeped on Breanna on Twitter, asking for help of how to do drop down menus in WordPress, after falling in love with her design; yet she answered with such kindness and helped me figure it out, so thank you again for that) and fantastic content and I'm not sure what else you'd need to look at in a book blogger, honestly.
Lyndsey @ Lyndsey's Book Blog: Another blog who I fell in love with because of their design (I'm so sorry I'm such a sucker for pretty blogs and my jealousy at everyone being so graphically crafty likes to torture me by finding pretty blogs and just stare in awe and wonder, okay!?), I love the wide range of her posts, from awesome book reviews to her Author Toolbox monthly contributions. I'm always excited to see a new post from her come in on my feed!


Mogsy @ The BiblioSanctum: The BiblioSanctum is a blog I've followed for a while now and I'd be surprised if you haven't, too. This blog is one I've always inspired to be like; to have grown into a powerhouse book blog by providing consistent, great content that readers want to read! Though I know multiple awesome people run it, I'm particularly fond of Mogsy and our interactions (am I allowed to do that?). She is so kind and it's always fun to chat with her!
Lynn @ Lynn's Book Blog: Lynn is such a sweetheart! Another blog I've followed for a while, she's always responsive to my comments and is very sweet when she does. I also always enjoy her posts, her weekly wrap up posts especially, and how she is always open and honest about her opinions and where she is at, i.e., if she's fallen behind on ARCs or if reading just wasn't great that week. Her honestly is comforting as someone who is still trying to figure out how this whole book blogger thing works. It's been a joy to follow her blog and I have no plans on stopping!
Jamie and Caleb @ Watch Game Read: I recently discovered their blog and I seriously dig it. In-depth thoughts about not only books, but video games and TV shows, too! I love the format of the posts and really enjoyed their E3 predictions and wrap ups, especially. And there are so many readers + gamers out there, so if I can find another one to connect with, then sign me up!


Shealea @ That Bookshelf Bitch: I can't remember how I stumbled upon her blog, but I am so glad I did. Her posts are always so in-depth and so insightful and she honestly might have one of my favorite blogs ever (I'm lowkey a fangirl of hers, not going to lie). The honesty of her posts and the voice she writes with is so refreshing and I love learning about a wonderful culture through her. She is also one of the most giving bloggers I've encountered, with her time, opinions and thoughts in her reviews and posts, but also by hosting giveaways, blog hops/tours and her latest amazing project, #Augvocacy2018! I highly recommend you head over there and check her out!!
Sarah @ The Critiquing Chemist: Sarah's reviews kill it. I love how she formats them, with splitting up her reviews into spoilery and spoiler-free sections, and how in-depth she is in all of her posts. I also enjoy that she scatters in personal posts throughout (it makes me reconsider if I should keep my personal blog and my review blog separate or not…). It's been a joy to get to know her through her blog and I hope to get to know her better as the years go on!
Chuck Wendig @ TerribleMinds: So, I'm cheating with this last one, as I wouldn't label Chuck as a book blogger, but his blog might be my favorite blog of all time, because his writing advice posts always hit home, his insight to the writing industry is always appreciated and cherished, as a writer myself, and he hosts some really fantastic guest posts by other authors. Oh, and his humor and his posts about the sorry state of the world give me hope, so I couldn't not put him on this list.
---
So there you have it! I hope you enjoyed my listing of some pretty fantastic book bloggers out there. There are, of course, loads more, too, but I tried not to go off the rails and just list everyone that I follow. I hope you were able to discover someone new and look forward to reading others lists, too, as I'm always looking for new bloggers to follow and connect with (especially if you're into fantasy, say hello!). As always, thanks for stopping by!
Read on!