Last Updated on October 9, 2018 by ThoughtsStained

Welcome back to Top Ten Tuesday! Once hosted by The Broke and The Bookish, it is now hosted by That Artsy Reader Girl. It's a weekly book feature where a topical list-prompt is posted and readers respond with their top ten for that prompt. Yours truly tends to go over ten, but hey, what can a passionate reader do?
This week's topic is: Longest Books I've Read
A couple books pop into mind with this one, but this all took a little bit of research to figure out, as I tend to enjoy books that are on a bit of the longer side, to be honest (though I've recently been reading some books in the 350ish page range and that is kind of refreshing, as I can fly through those books in a manner of a day or two, instead of my usual 600+ reads that I enjoy). But to find out the longest I've ever read…now that was a pretty fun test!
So, let's check out the results, shall we?
---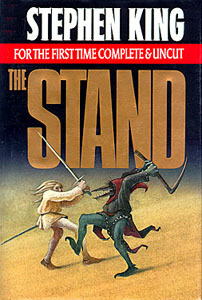 The Stand by Stephen King: 1,439 pages
My Dad always wanted me to read this book and ended up buying it for me for Christmas one year. He didn't realize he'd picked up the unabridged version accidentally and though I did think it dragged a bit, I did enjoy this book quite a bit and think about it often (but mostly how scared it made me to be sick).
---
Words of Radiance by Brandon Sanderson: 1,310 pages
This series was the first that came to mind, when I saw this week's prompt. I can't forget that tiny print after picking up The Way of Kings, but I quickly forgot about how small the print was and instead, was just blown away by how incredible the story was, getting to the point where I never wanted it to end (which is ironic, since I still haven't read Oathbringer yet because I'm stubborn and waiting for the paperback release since that's what my first two copies are).
---
War and Peace by Leo Tolstoy: 1,273 pages
The reason I read this book is kinda a silly one, yet I'm strangely (still) ridiculously proud of this, even years and years later. In my AP class sophomore year of high school, my teacher gave us a book report project over break and then, at the end of explaining it, mentioned that, out of the list of books she provided from us to choose from, no one had ever chosen War and Peace.
I got a 95% on that report, thank you very much.
---
A Storm of Swords by George R.R. Martin: 1,177 pages
Ironically enough, when I first was trying to figure out what would be on this list, I didn't even think of A Song of Ice and Fire, even though it takes up half of this list. I did really enjoy these books, even if they were a bit much to follow and I've forgotten most of the important bits. Except for one line: For the watch. I'll never bloody forget that.
---
A Dance with Dragons by George R.R. Martin: 1,113 pages
---
A Feast of Crows by George R.R. Martin: 1,061 pages
---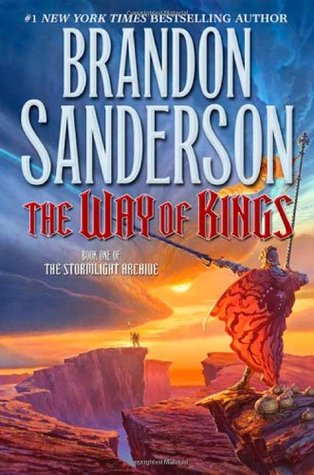 The Way of Kings by Brandon Sanderson: 1,007
The first in The Stormlight Archive, this might be one of the best books I've ever read, period. Even if I can't remember much of the details, because these books are immense and intricate.
---
Fall of Giants by Ken Follett: 985 pages
I completely forgot this series, too! I really, really, really enjoyed it when I read it. I don't read a lot of history, but this series definitely made me want to…
---
Winter of the World by Ken Follett: 940 pages
…even if I still haven't read Edge of Eternity and now I need to reread the entire series in order to find out what happens at the end. *facepalm*
---
A Game of Thrones by George R.R. Martin: 848 pages
It's interesting to see how short* the first book is, compared to the others. I guess that's not uncommon for a series (for them to get longer as the series goes on). Still, it's kind of interesting to see that A Game of Thrones is closer to the range of what I normally read (500-800 pagers) than what I associate it being, since the entire series is just so massive. But I dig it.
---
So, not a bad range of books, if I do say so myself. I'm sure there are others I don't remember (or weren't conveniently listed as the longest book I read in my Goodreads yearly stats) that might rival some of these, falling between the 850 and 1,500 page range, but for now, this is what I can remember: a few series by authors who like to write long books. And I'm always game for that.
Read on!