Last Updated on October 3, 2017 by ThoughtsStained

Top Ten Tuesday is a weekly meme hosted by The Broke and The Bookish, where a different theme is posted each week and book bloggers respond. This week's theme is: Top Ten Book Boyfriends/Girlfriends. I think I'm going to cheat a little bit on this week's theme because I'm going to focus on couples that I adore rather than specific characters I have crushes on (because really, if I've fallen in love with a couple, you can also bet that it's prolly because I have a crush on the guy and wished I was the girl).
Faramir and Eowyn
The Lord of the Rings by J.R.R. Tolkien

Why: Faramir is the epitome of an all around good guy. And his relationship with Eowyn, where they found love through healing, is just so wholesome and I never cease to get butterflies thinking about it.
Favorite Quote: And he took her in his arms and kissed her under the sunlit sky and he cared not that they stood high upon the walls, in sight of many. 
Aragorn and Arwen
The Lord of the Rings by J.R.R. tolkien

Why: Is there anything more romantic than a woman being willing to sacrifice her own immortality to make her own choices and follow her heart to be with the man she loves? Plus, the attraction of Aragorn isn't half bad, either.
Favorite quote: I'd rather spend one lifetime with you than face all the ages of this world alone.
Elend and Vin
Mistborn by Brandon Sanderson

Why: I loved the way they complemented one another and they had to find themselves before they could truly love one another. Their romance felt so real.
Favorite quote: He didn't know if he'd ever get the answers he wanted. Yet, he was coming to realize that he could love her even if he didn't completely understand her.
Tavi and Kitai
The Codex Alera by Jim Butcher

Why: Tavi is just really hard not to root for in every sense, so when he finds someone as amazing, adorable and badass as Kitai, of course they are going to become one of your favorite couples.
Favorite quote: Living was a dangerous past-time, and often quite painful—but there was also such joy in living, such beauty, things that one would otherwise never see, never experience, never know. The risk of pain and loss was a part of living. It made everything else mean more; beauty was more pure, more bright, pleasure more full and complete, laughter deeper, more satisfying—and contentment more perfect, more peaceful.
Cait and Griffin
A Promise of Fire by Amanda Bouchet

Why: Cait reminds me of myself, but only when she is being entirely awkward (which is pretty often, to be honest). Now, Griffin…let's just say out of every man on this list, if I had to make one of them real, Griffin would certainly be it. Because wow.
Favorite quote: His tongue swirls against my skin, and I gasp. His voice rough with passion, he rasps, "You're living fire. I burn." 
Bridget and Benedict
The Aeronaut's Windlass by Jim Butcher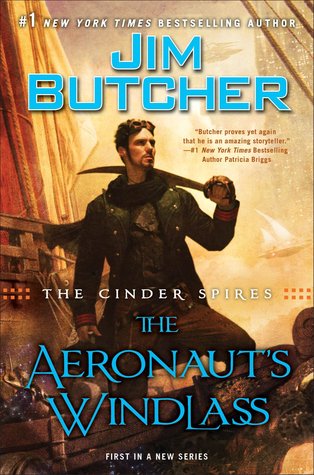 Why: Actually, practically all the men in this book–Benedict and Captain Grimm especially–are high on my list of characters I have a crush on, for one sole reason: their manners. Impeccable. Rare. Utterly attractive.
Favorite quote: You can describe it to them as much as you want. You can write books about what you felt, what you experienced. You can compose poems and songs about what it was like. But until they've seen it for themselves, they can't really know what it is you're talking about. A few people will clearly see the effect it had on you, will understand that much, at least. But they won't know.
Pauline and Griffin
Any Duchess Will Do by Tessa Dare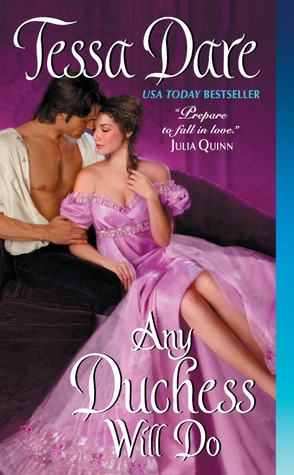 Why: This book–and this couple–was what really got me into regency romance in the first place. Again, I empathize with Pauline and her awkward, bookish nature, and I constantly wished I was in her shoes in almost every scenario where Griffin was also involved (and apparently, the name Griffin is a popular one for swoon-worthy gentlemen who don't always act like gentlemen (if you catch what I mean; and no, I'm not blushing, you're blushing)).
Favorite quote: No, no. Not in a mirror. I know how mirrors work. They're all in league with the cosmetics trade. They tell a woman lies. Drawing her gaze from one imagined flaw to another, until all she sees is a constellation of imperfections. If you could get outside yourself, borrow my eyes for just an instant . . . There's only beauty.
Sonmi 451 and Hae Joo Chang
Cloud Atlas by David Mitchell

Why: So, I'm totally cheating on this one, because while I read the book and loved it, I am totally basing my opinions off the characters from of the cinematic version, which are quite different from their original book representation. But I loved Sonmi's bravery and how Hae Joo was the catalyst.
Favorite quote: I believe death is only a door. When it closes, another opens. If I cared to imagine a heaven, I would imagine a door opening and behind it, I would find him there. 
Mr. Darcy and Elizabeth Bennet
Pride and Prejudice by Jane Austen

Why: Oh come on, you knew he'd be on this list.
Favorite quote: In vain have I struggled. It will not do. My feelings will not be repressed. You must allow me to tell you how ardently I admire and love you.
Yeah, there are definitely some swoon-worthy couples out there and writing this post makes me want to just curl up and get lost in a good romance again. Any of your favorites that I missed? Tell me about why they're swoon-worthy in the comments below!
Read on!