Welcome back to Top Ten Tuesday! Once hosted by The Broke and The Bookish, it is now hosted by That Artsy Reader Girl. It's a weekly book feature where a topical list-prompt is posted and readers respond with their top ten for that prompt! Yours truly tends to go over ten, but hey, what can a passionate reader do?
This week's topic is: 10 Books on My Fall TBR List
Usually, I think this would be really hard, because my TBR list is ever daunting and growing and it feels like it's never going to get conquered in any which way or form, no matter how many books I read. But thanks to some stellar ARCs and library books I have at the moment, I think I know (roughly) the next ten books I plan on reading.
So, let's get to it!
---
You Die When You Die and The Land You Never Leave by Angus Watson: Orbit is being kind enough to send me the sequel, which is prompting me to finally actually read the first book (which the library was kind enough to let me borrow). I already started reading the first one and although I felt it started a little bit slow, I'm finally getting into it and I hope it'll pick up before the end!
---

Charmcaster by Sebastien de Castell: Another series on my radar because of Orbit and one of the first series in a while that I have devoured the books in practically one sitting (the second one where that was absolutely the case). With the third one in the mail heading my way, I'm basically just planning on reading it in one sitting at this point. They are just so fun and classically good.
---

Rosewater by Tade Thompson: Thanks again to Orbit for this one, a book that hadn't even been on my radar before I saw it in their email. But I'm really excited to read it, honestly because it's set in Nigeria and by an African author. I fall really badly into reading majority of white male authors on average, so I'm actively trying to branch out from that and I'm excited for Rosewater to be one of the books to help me to do that.
---

There Before the Chaos by K.B. Waters: Look, more sci-fi! It's a genre I'm still slowly getting into, but this book's blurb and cover definitely intrigue me, so I'm excited to dive it and continue attempting to satisfy my ever growing science fiction pallet.
---

Cold Iron by Miles Cameron: This might be surprising, but I haven't read any Cameron books yet. Yet this one was just too intriguing to pass up, especially because I am–and always will be–a sucker for coming of age stories.
---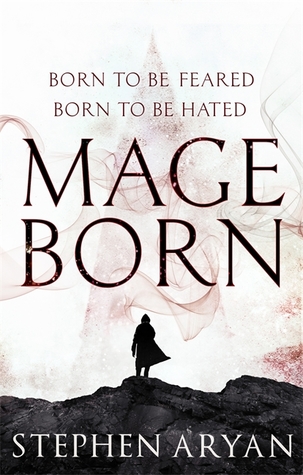 Mageborn by Stephen Aryan: Another series I've been meaning to read, but haven't yet. But considering the sequel is coming out next month, I think it's finally time to test the waters and see if this is as good as I've heard it is.
---

The Rule of Luck by Catherine Cerveny: Now, this is a book I am really intrigued about. I heard about the final book from the trilogy, thanks to Orbit, and the "steamy science fiction" tag piqued my interest undoubtably. So I had to check out the first book and see if I've finally found a good science fiction romance series to sink my heart into!
---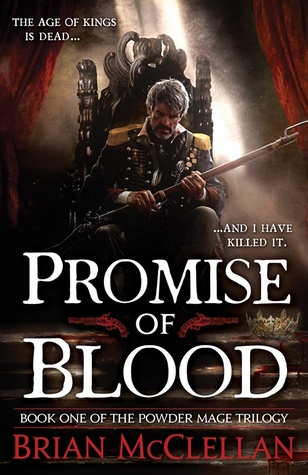 Promise of Blood by Brian McClellan: McClellan is one of those authors that I've been meaning to read for ages, but once again, never got around to actually checking him out. I finally put the first book on hold at the library and got it, and now have 14 days to read it before I have to turn it in, because someone else has it on hold. So I'll finally get to read this mastermind and hopefully am blown away as much as I believe I will be!
---

The Court of Broken Knives by Anne Smith Spark: I don't know too much about this series except what I've heard about it. And I've heard it's brutal, gritty and unforgiving, exactly how a grimdark should be. Except this is written by a woman, which I am ALL ABOUT. So the library is coming in clutch again and it's already sitting ready on my shelves.
---

Blood of the Gods by David Mealing: AH, I am so, so, so excited to read this sequel. I enjoyed the first book immensely and it took a lot of willpower not to jump into the second book immediately and instead stay on top of my ARCs for August. But since I've already fell behind for my ARCs in September, I might as well go ahead and find out what happens next…
---
Not a bad list, if I do say so myself (even if it's more than ten *shush, don't tell*). Having them all listed out makes me not only excited for how many promising books I have on the horizon, but also wishing that I had a lot more time available, because this doesn't even put a dent into my TBR list.
But, gotta start somewhere, right?
Read on!