Welcome back to Top Ten Tuesday! Once hosted by The Broke and The Bookish, it is now hosted by That Artsy Reader Girl. It's a weekly book feature where a topical list-prompt is posted and readers respond with their top ten for that prompt. Yours truly tends to go over ten, but hey, what can a passionate reader do?
This week's topic is: Outrageous or Uncharacteristic Things I've Done for the Love of Books
I'm really excited to see the lists that everyone else comes up with, because I feel like mine isn't going to be that exciting, in comparison (although, maybe you found it riveting instead of boring, who knows!). But if you're a book lover, I have a feeling you might be able to relate to these.
If you're not, well…you prolly always knew I wasn't your ordinary human to begin with.


Lost Sleep: If you know me at all, you know that I love sleep. Like, I love sleep. I've actually lost friendships with night owls in college because I wanted to go to bed at a decent hour and get a solid eight hours every night, instead of staying up late and hanging out on school nights. They might not be pleased to know that books, however, have definitely caused me to sacrifice sleep, in order to read just one more chapter, but hey, sometimes, they are just that good.
All-Nighters: Did I pull an all-nighter to read Harry Potter and The Deathly Hallows in one sitting so I could finish the entire thing before my Mom got to read it "first" in the morning, after we bought a single copy (I know, our mistake) at the midnight launch, because I didn't want to wait for her to read it to find out how it all ends?
Why yes, yes I did.


Midnight Launches: I haven't gone to too many midnight launches (mostly because there aren't a lot of them in my area; or, are then even a common thing, really?) but I will sacrifice sleep to get my hands on the next book I really want before I sacrifice almost anything else, honestly.
Pay Money: This might seem like a weird one to include, but I am FRUGAL. Like, really, really, really frugal. I hate to spend money on practically anything, so I avoid it like the plague. But my one weakness, that one thing friends and family know will break this streak: books.


Hibernation: I am definitely on outdoors person, in the sense that I love to be outside and doing something (even if that something is reading out in the backyard). But a good book will keep me locked up inside almost more than anything else. Plus, especially in high school, I was known to lock myself up in my room for the entire weekend and not come out, just reading the days away.
Lying: Have I lied to loved ones and claimed, "I was busy" or "I was unavailable" when they asked if I wanted to go do something so I can stay in alone and finish a chapter?
Why yes, yes I have.
Becoming Extroverted: I used to claim I was an extrovert, but I know myself better than that and know now that was definitely never the case. I'm an introvert by heart and by nature, but there are two things that will almost always bring the extrovert out in me to strangers: dogs and books. I'll avoid making eye contact with strangers all day long, but when you see someone holding a copy of Age of Assassins by R.J. Barker at your local Barnes and Noble, obviously on the fence about whether or not they should purchase it, you bet I casually freaked out to them why the book was incredible and then panicked-ran away after the conversation was over.


Cosplay: The ultimate moment of becoming extroverted was when my friends and I all dressed up as characters from Harry Potter for the final film premiere (hi, I'm Luna Lovegood who made her own version of The Quibbler and wore real radishes as earrings) and then proceeded to fight death eaters in an epic wand battle in the middle of the theatre as we waited for the film to start, with everyone watching us.
My heart hammers even now to think that I did this.
Tattoos: I feel like this one doesn't count, because I was always going to get tattoos (it was everyone else who didn't believe me and thought it was outrageously uncharacteristic when 16 year old me claimed this), but my LOTR sleeve is definitely a tribute to the Father of Fantasy and, in a way, all the books I love.
Books Meetings: I also joined our local chapter of the Tolkien Society, which requires monthly meetings to discuss readings with strangers (who have, since then, become friends!) that also requires me to drive on the highway to get to (which, huge case of driving anxiety, over here).
I don't make these kind of sacrifices for just anything, people!
Attending (and speaking at !!) Cons: I also don't think I'd ever have been to a Con, without my intense love of writing and reading books. I even presented (!!) at a Tolkien Convention last year and am considering doing it again this fall, who am I.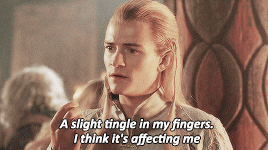 Well, there is my list! I struggled to make it at first, but then I realized, there are quite a few things that I do in the name of my love of books that I might not have done otherwise or normally do usually. It was really fun to write and think about, so I hope you enjoyed it. Please share your own Top Ten Tuesday lists with my down below and let me know what you thought of mine!
Cheers.