Last Updated on September 25, 2018 by ThoughtsStained

Welcome back to Top Ten Tuesday! Once hosted by The Broke and The Bookish, it is now hosted by That Artsy Reader Girl. It's a weekly book feature where a topical list-prompt is posted and readers respond with their top ten for that prompt. Yours truly tends to go over ten, but hey, what can a passionate reader do?
This week's topic is: Books By My Favorite Authors That I Still Haven't Read
This is a wonderful topic with plenty of books to choose from for me personally, mostly because apparently my entire TBR pretty much falls into this category. Yet I'm going to twist it just a little bit and split it up into two categories: the first five will feature books or series I haven't read yet by my favorite authors, as decreed. The second five are authors I haven't started reading yet, but I know I'll love, mostly because I don't want to dig into my TBR list too deeply and realize just how behind I am on pretty much everything.
Even though I feel that happening anyway, as I create this list.
Oof, I need to read more.
Moving on…
---
Favorite Authors I'm Behind On:

First Lord's Fury by Jim Butcher: So, I haven't read a Jim Butcher book in a while, so if you were like, Nicole, who is one of your favorite authors, I prolly wouldn't list him immediately, as I'm obsessing over some other authors at the moment. But considering I'm caught up on The Dresden Files, absolutely adored the first book in The Cinder Spires and The Codex Alera was one of my favorite series of all time, it's not a far stretch to list Butcher as one of my favorite authors of all time. That being said, I loved this series so much that I didn't want it to end, so I….ah…never read the last book of the series. And now, it's gotten to the point where I can barely even remember what happens, so I need to reread the entire series in order to do the last book justice, so….yeah.
Oops.
---

Oathbringer by Brandon Sanderson: Sanderson is similar to Butcher: aside from his YA series, I've read pretty much everything Sanderson has written (though there are still a couple books I need to read by him). Most notably of what I haven't read is Oathbringer, one of my most anticipated reads from last year. It isn't for lack of interest. Honestly, I wanted to reread the first two before reading the third, because it's a series with too much depth and complexity to try and read it with a faulty memory and I just haven't had time to read three monstrously sized books (which, I'm not complaining, because I love long books) in a row yet. I also haven't even bought a copy yet, because my previous two are in paperback, so I need the third to be in paperback, too. Or I could just by the hardback version of all of them…
---

Most of Bec McMaster, apparently: I absolutely adored McMaster's London Steampunk quintet. They were wonderful romances that I usually read in one sitting and I just couldn't get enough of them. So when I found out she had other series, I've been very excited to read those, too. I just…haven't gotten around to them yet. And, in creating this post, since the last time I checked, there are at least *counts quickly* SIX new books that I wasn't even aware of!? I really need to just go on a binge-read spree, honestly, because she's writing faster than I can truly keep up.
---

Half of The Demon Cycle by Peter V. Brett: I really, really enjoyed the first book and had some qualms about the second, but also enjoyed it overall. I've been meaning to read the rest of the series, but time just gets away from you, you know, and then suddenly the series is complete and everyone is gushing about it and now you're super behind and you just need to take off work to truly get caught up and…shit.
---

The Republic of Thieves by Scott Lynch: The first two books in the Gentleman Bastard series are probably some of my favorite books of all time? I think I can safely claim that without hesitation. Yet the second book took me through the ringer emotionally and, reading the blurb on the back of this one, I know the third installment is going to try (and most likely succeed) to top that one, so it's going to be a rough but oh so pleasurable ride. Even though I own this book, I honestly think I haven't read it yet out of fear over what they are put through next. But once I start it? Won't be able to put it down, no doubt about that.
---
Authors I Haven't Read, But I'll Love:

Robin Hobb: I know, without a shadow of a doubt, that I will absolutely love her books. Hell, I'm pretty sure I already own half of these books, just continuing to buy them whenever I see them on sale, because I want to be prepared when I start reading her. Because I believe what's going to happen is I am going to finally start Assassin's Apprentice and then I won't stop until I've read literally every piece of fiction she's written. So I keep waiting for a time when I'm able to do that, like somehow I'll magically get caught up on ARCs and have no other books I'll want to read for a couple of weeks. So, honestly, I should just bite the bullet and get on this….
---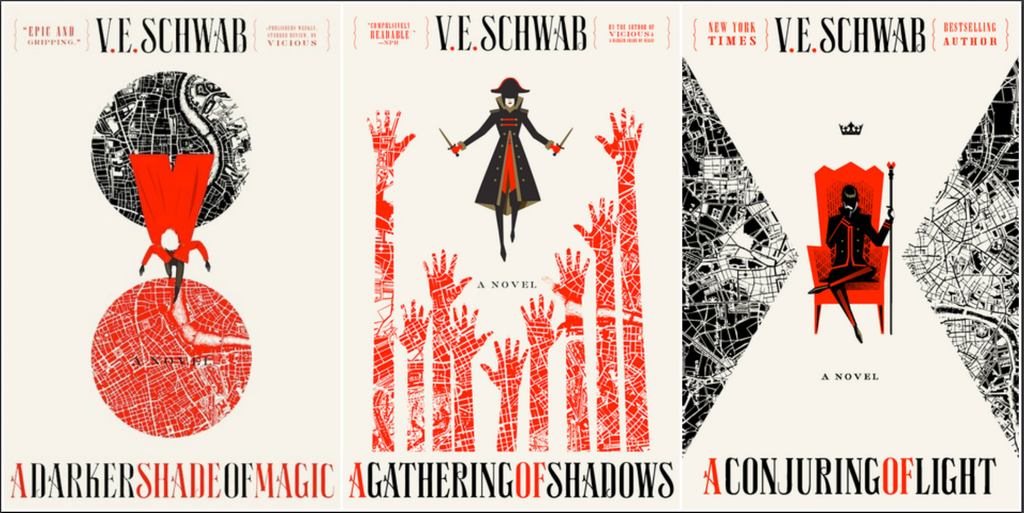 V.E. Schwab: Everyone tells me how much I will love her books. I adore her Twitter and can't get enough of her advice and her honesty and transparency. She's a legend in the book community. And I haven't read her because…I suck? I dunno, I don't think I have a good reason, other than it just hasn't happened yet but it oh so needs to.
---

Sam Sykes: Another author I follow on Twitter because I adore his personality and how he presents himself there. If even a tenth of his humor I find there is present in his books, I'm going to love them. Just add another one to the list, mate…
---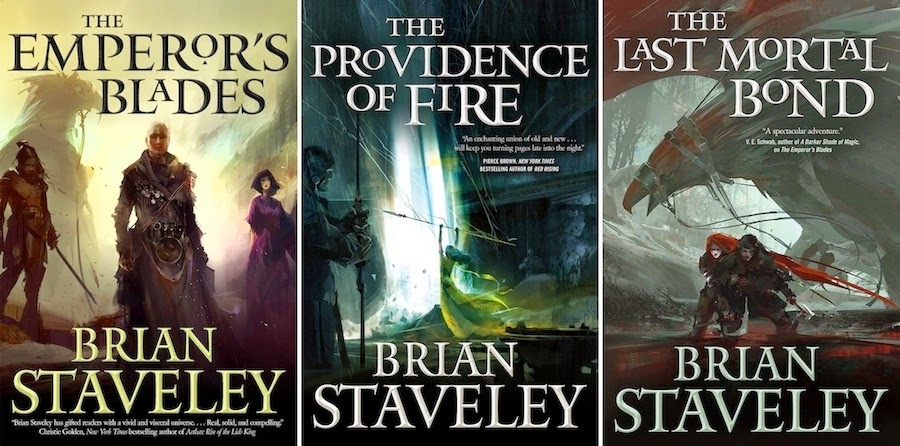 Brian Staveley: This might be the author I know the least about out of this list and honestly, only really recognize his books because of their covers. But I can't stop looking at those covers and wanting to know about the stories within them. I know, we both know how I could fix this, but unless you have a time turner–or, better yet, a device that pauses time for everyone else but let's me keep going–I just have to keep him safe on my TBR list.
---

Marie Brennan: I want to read her books so badly, but of course a new book just continues to come out and then nothing happens on my end and I'm just left over here wanting when I HAVE THE POWER TO FIX THIS and I just keep choosing not to. Goodness, it is ridiculous.
---
So, basically, while I had a lot of fun creating this list, it just made me realize that, even though there are a lot–and I mean a lot–of books that I'm itching to be published so I can read them in all of their glory, there are also a lot of books that are already sitting on the shelves of bookstores or libraries or hell, sometimes even my own home that I'm still really excited to read. And not a lot of reasons/rationale as to why I haven't read them yet, aside from time and forgetting, I guess, how badly I want to?
I need to start focusing on more of those gems, instead of continuing to get lost on the latest thing off the press (even though those books are damn good, too).
Read on!