Last Updated on June 19, 2018 by ThoughtsStained

Welcome back to Top Ten Tuesday! Once hosted by The Broke and The Bookish, it is now hosted by That Artsy Reader Girl. It's a weekly book feature where a topical list-prompt is posted and readers respond with their top ten for that prompt! Yours truly tends to go over ten, but hey, what can a passionate reader do?
This week's topic is: 10 Beach Reads
I won't lie, this topic makes me a little jealous. Living in the middle of the country where the nearest beach is a mere twenty hour drive away means that getting to read on the beach is a very rare treat; one I wish I could indulge upon more often. But that doesn't mean that, out of my ever daunting TBR list, I don't have a list of books I wouldn't hesitate to bring with me, if I had the opportunity to dig my toes into the sand this summer.
(Also, I'm listening to an ocean playlist right now, as I'm working on this, because I just like to be cruel to myself, apparently.)
Here are the books I'd bring:
---

I've very lucky to have an ARC copy of this book that I get to start this afternoon, especially after hearing so much positive praise for this book! But who doesn't want to read about space while listening to the ocean's waves?
---

Life is pretty hard right now and sometimes, you just need a book full of humor and laughs to help keep you going. I'm counting on this book to be my escape in that regard.
---

I don't have a copy of this book yet, but after reading a couple of really intriguing reviews, I can't lie and say that I'm not totally intrigued by it, so I wouldn't be surprised if it snuck higher onto my To-Read list sooner rather than later.
---

This is the book that I've been waiting all year for. It's currently in the mail and on it's way to me and I couldn't be more excited about it.
---

I'm cheating a little bit, because I'm going to count some of August's new releases towards my summer beach reads, but I'm seriously so jazzed to read the last book of this series and find out what happens next.
---

This is pushing the summer reads limit to the max, as it gets published at the end of August, but I can't help it. The fact that this book is coming out in mere months just has me salivating.
---

I received a copy of this book from Titan before it came out and I've let this book slip between the cracks as I've been trying to keep up with these ARCs. However, this is one that I'm seriously intrigued by, so I definitely plan to read it this summer.
---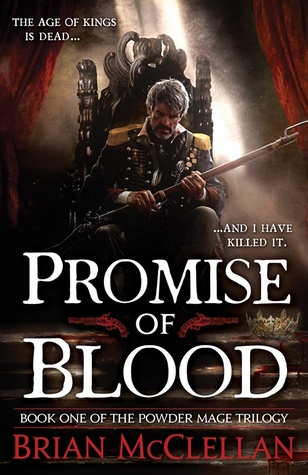 I haven't read McClellan yet and he just keeps publishing books I really want to read. So it's about time that I actually jumped on this band wagon.
---

When the library wasn't able to buy this book (apparently it's out of print or something like that?), I went to the trusty–but ever dangerous–ThriftBooks website and got a copy for myself. Steampunk romance has always been my jam and I'm itching to swoon a little once again.
---

I've read the first three volumes of this comic series and I completely fell in love. I own all eight and I just want to spend a day by the water binge-reading the entire series (so far).
---
So there you have it! Any of these make it onto your Summer TBR? Any books you think I should add to them? Let me know in the comments!
Read on!