Welcome back to Top Ten Tuesday! Once hosted by The Broke and The Bookish, it is now hosted by That Artsy Reader Girl. It's a weekly book feature where a topical list-prompt is posted and readers respond with their top ten for that prompt. Yours truly tends to go over ten, but hey, what can a passionate reader do?
This week's topic is: Settings I'd Like to See More Of (Or At All)
This one was a little challenging, because at first, I was like, "Oh, I totally have tons of things I want to see more of," before I reread it and realized it was settings I want to see more of, which is a bit different. So, here are some of my favorite settings that I wouldn't mind seeing more of. And though I'm sure there are plenty of books (hopefully, probably?) that already use these settings, these are settings that, for me, personally, I haven't stumbled across enough and would love to read more!
Anything That Isn't Western Culture: I feel like this might be self explanatory, but I will never get enough of novels that aren't set in a world I'm familiar with, inspired by a history I don't share. I want more of those worlds and more of those characters.
Hidden Cities: Except, I'd love to read a story where the conflict isn't about being found or trying to escape. I dunno what the conflict would be, but hidden cities or entire civilizations would be fun to see.


Airships: Um, I am such a sucker for airships. I love steampunk as an entire genre and I don't read it nearly enough. But I freakin' love airships and I'd love to read more works incorporating them and hell, even taking place completely on them.

Forested Cities: I am trash for the fantasy genre, so I love me your traditional forest setting (it's also one of my favorites to write); especially since exploring and hiking in a forest is one of the favorite things to do, um, ever. But, I'd love to see more forested realms or cities (think Lothlorien, which completely and definitely ignited this desire), since Peter Jackson has basically made me wish that was my actual home since 2001.


Ships: I think I just don't read enough fantasy that incorporates ships, but I'd be seriously game to read more fantasy aboard ships (or more fantasy pirates, honestly).


Animals as Homes: This one is a little out there, but hear me out: an entire civilization that lives off the backs of GIANT ANIMALS.
(I swear I saw incredible art that had this, once, but for the life of me, I cannot find it again, which is so infuriating, because I cannot do this justice.)
Jungle: While I love my forest, I think jungles are bit unexplored and I'd love to see more of it! Oh, and why not add volcanoes in the mix, because honestly? How rad would that be, to live in a civilization that is able to live in a volcano, but always has to vacate when they erupt, forcing them on a journey to find another dormant one before the cycle starts all over again?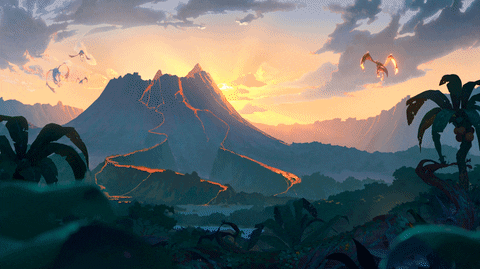 Desert: The sand. The heat. The vast endlessness of it. Give me more journeys across that.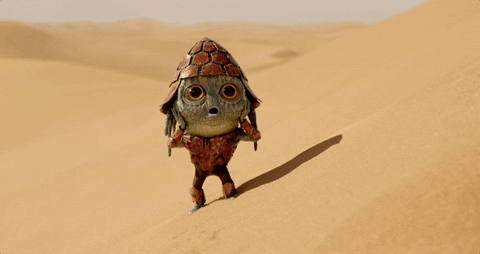 Cyberpunk: What can I say, this is growing on me and I just love to write in this very futuristic, gritty, surreal environment and it's a great palette cleanser from my traditional fantasy readings.


Dead Realms: Give me more stories set in realms like Hades' Underworld: dark, depressing, yet beautiful and terrifying.


Cave Dwellings: An entire civilization set in a massive cave network. Glowing cave worms providing light. I dunno, I think it'd be cool to see this done as a focus in a narrative, instead of just a shelter or another part of the passing landscape (or just nightmare fuel, as it usually is for me).


What do you think? Do you agree with these choices (or have any favorites that incorporate these settings)? What do you think I should have added? Let me know in the comments below and Happy Tuesday!
Read on!