Waiting on Wednesday is a weekly event hosted by Breaking the Spine where we readers salivate over the books we wish were on our bookshelves yesterday.
I know we're supposed to highlight books that we're stoked are being published, but this week, I'm taking it a step further and highlighting a book that hasn't even been written yet, but still is definitely going to be published…we'll just be waiting a long time.
But based off how much I adored the first book, it's going to be worth it, I think.
I'm waiting on Jim Butcher's The Olympian Affair, the second installment of The Cinder Spires series. In his steampunk debut, Butcher absolutely rocked it. From his fantastic characters (particularly men like Captain Grimm and Benjamin, who raised the bar as to what I expect from a gentleman), the vivid world and the ultimate dominance of a cat named Rowl, The Aeronaut's Windlass is a book where the only times I put it down was to pause and wipe my eyes from laughter. It was funny, it was moving, it was such a joy to read and ever since I turned the last page, I've been itching for the sequel.
Which hasn't been written yet.
Hasn't even been started yet.
Butcher is writing Peace Talks (The Dresden Files, #16) first and then he'll write The Olympian Affair. (I also must say that I'm eagerly awaiting Peace Talks, as I'm a huge Harry Dresden fan, so I'm not complaining about this in the slightest). So really, this post could just be titled: "Waiting (Gladly) On Jim Butcher" and it would be just as apt. Because I'm eager for everything he's working on and while no publication dates are in sight, you know I'll be the first one in line to pick up either of his books once they grace the shelves.
So, until we can read the next fantastic work by Butcher, let's just enjoy him cosplaying as the fantastic Captain Grimm, shall we?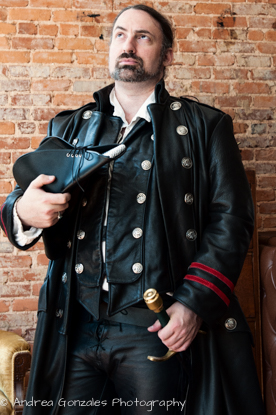 Read on!